Tomas Morato deserves more recognition as one of Manila's best foodie scenes. When talking about foodie hubs in Quezon City, the first that comes to mind is usually Maginhawa at Teacher's Village, but there are actually lesser-known spots in the City that is home to some of the best restaurants; there's Banawe, where you can find Bugis Singaporean Streetfood. In Tomas Morato, one of my favorites is Vagabonds Artisan Comfort Food and their 1000-gram steak!
But just as much as I wanted to rave about these hidden foodie gems, there's always a restaurant or two within these areas that can be a bit – um – underwhelming. In the case of Tomas Morato, it's Tribu Babaylan by Chef Laudico.
Tribu Babaylan is easy to spot if you're driving along Scout Dr. Lazcano St at Tomas Morato, Quezon City. The entrance is framed by a wooden arc that displays its name, and proudly states that the dishes are made by Filipino celebrity chef, Roland Laudico. The establishment is actually three business in one – a spa, a cafe, and a buffet restaurant.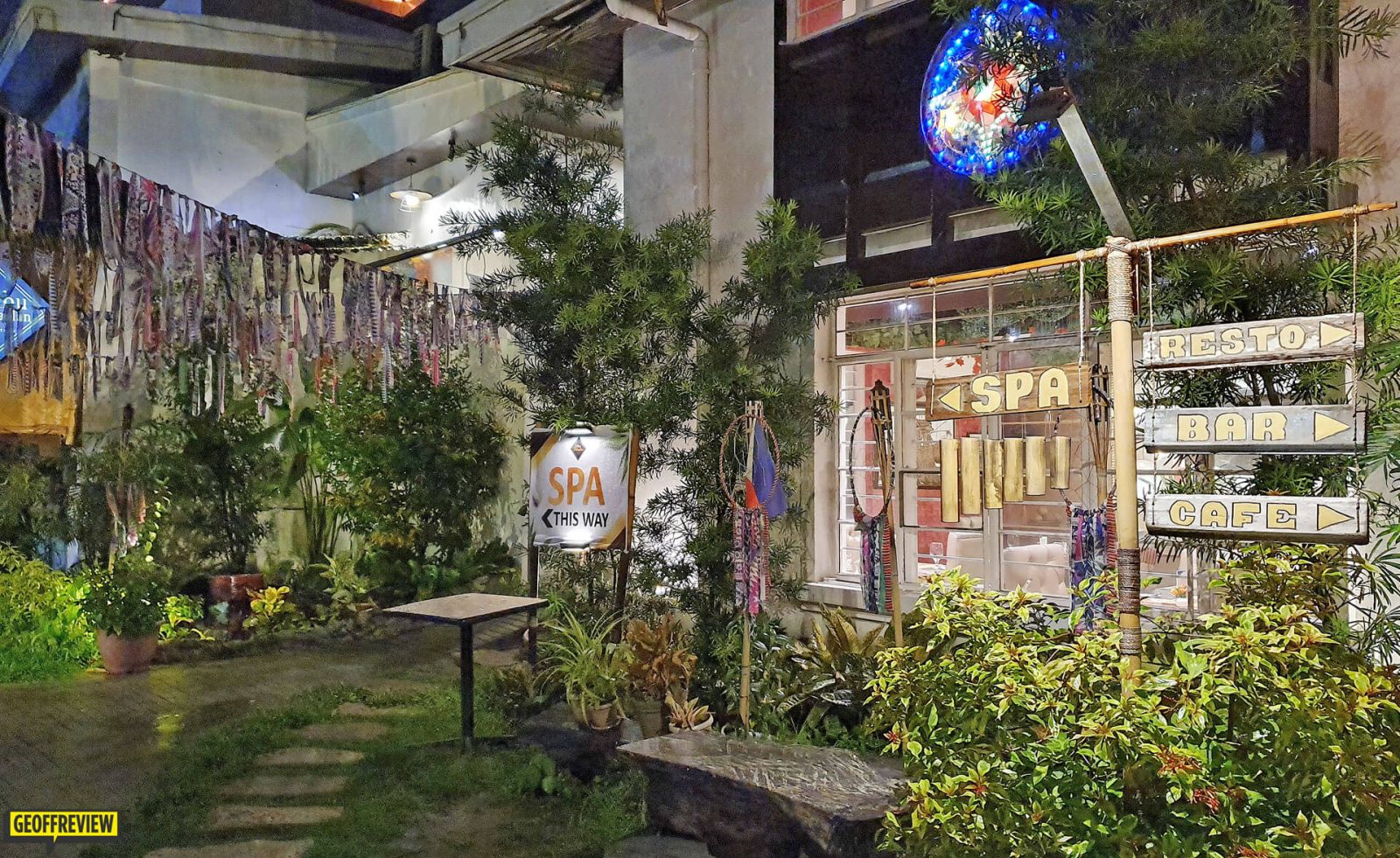 We visited Tribu Babaylan on a Sunday night so thankfully, there weren't a lot of customers (we actually had a whole dining area to ourselves). I can imagine though that the place could get crowded on peak hours because there isn't much space to move around. The walls are beautifully decorated with patterned wallpapers, and the wooden furniture and decors give the place an ethnic ambiance, consistent with its "tribu" theme. In case you're wondering "Tribu Babaylan" literally means "tribal priest".
Tribu Babaylan Buffet Review
The name and the interiors of Tribu Babaylan set my expectations that the restaurant will be serving the more exotic dishes that are specialties of Filipino tribes. I was excited to try what's on the menu because there are lots of local delicacies which I still haven't tried. When I learned that their buffet dinner is only Php 499.00 (exclusive of services charge), I wondered how local delicacies could be this affordable. Curious to find out, I headed to the small buffet area to check out the food.
It turned out that most of the dishes that they serve are no different from the usual Filipino dishes that you can have in Manila restaurants. Kare-kare, pork ribs, pansit, champorado, and halo-halo, are Pinoy dishes that you can easily find anywhere else. The closest to "exotic" that I found in the buffet are the chicken feet and maybe the Ilokano dish, Dinengdeng. I'm not even sure if the Malunggay Pesto is a Pinoy dish in the first place.
Okay, maybe it was my fault for expecting too much from the buffet. It is only a Php 499.00 buffet after all. Still, I wouldn't call it one of my best buffet experiences. Think Cabalen, but with nicer interiors. No particular dish stood out, which is sad because I know how exciting and flavorful the Filipino cuisine is. The fact that I did not go for seconds on any of the dishes, says a lot.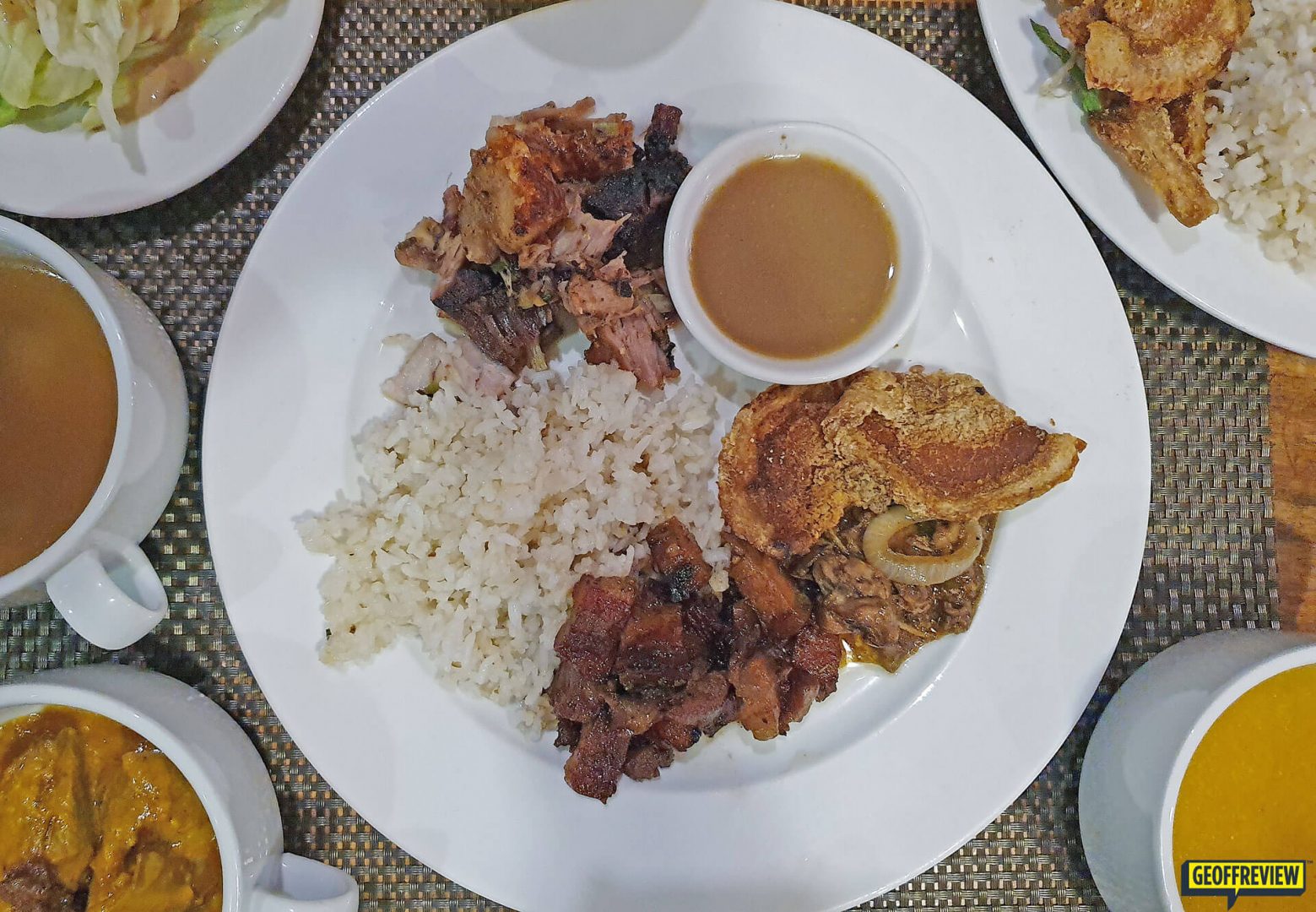 Tribu Babaylan Spa Review
Determined to redeem the night's experience, I decided to also try the spa at Tribu Babaylan. I thought to myself, what if it's really more of a spa than a restaurant? In the same way that you go to Wensha for the massage, and not their buffet.
The spa services are reasonably priced. The signature service, the Hilot Babaylan, is at Php 499.00 for a one-hour full-body massage. You also get access to their sauna and showers, so I say it's already a decent pricing. See the rest of their services and price list below.
I've had several "hilot" massages in my hometown province, and one thing I can say about hilot, is that it can be painful yet very relaxing at the same time. Painful because the "manghihilot" would normally apply pressure to get rid of muscle spasms, but relaxing because you'd feel rejuvenated after the session. The hilot massage that I had at Tribu Babaylan spa though, was a bit more on the gentle side. I didn't have that relaxed feeling that you get after a good massage. My mistake, I think, is that I didn't ask the therapist to apply more pressure, or maybe I should have gone with Shiatsu instead.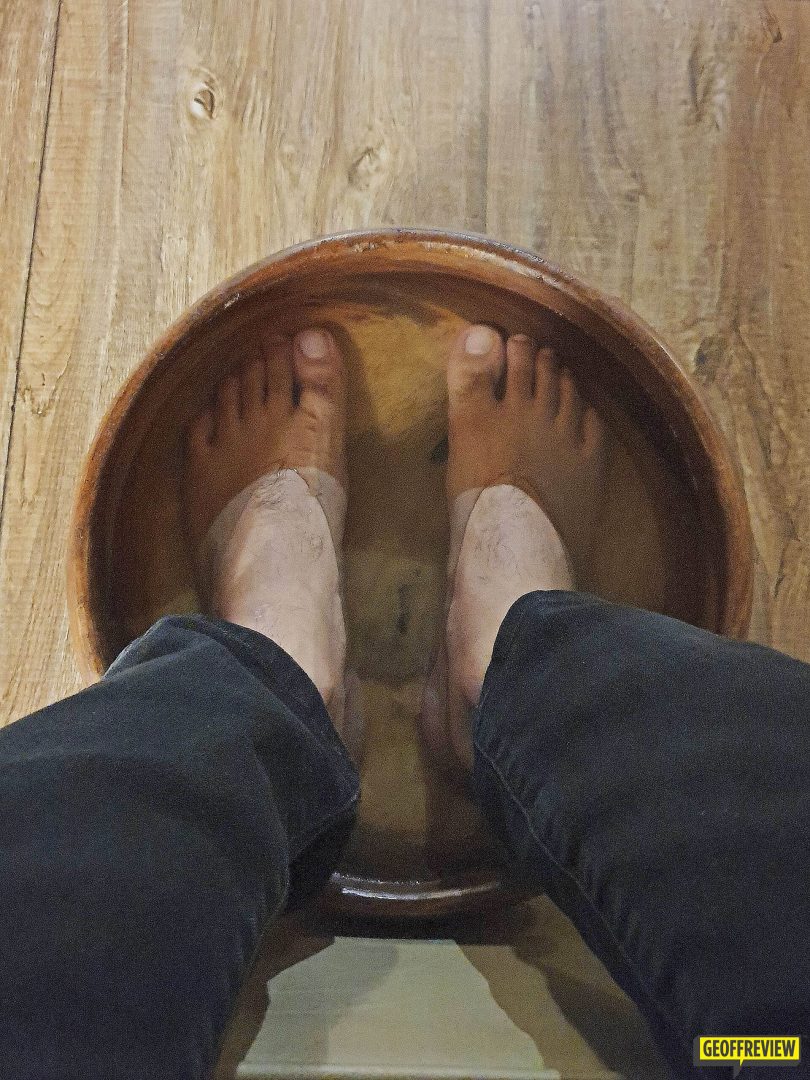 Tribu Babaylan also offers packages with more affordable rates if you're going to avail both the spa and the buffet.
Tribu Babaylan Promos and Packages
Lunch with Hilot Massage
Monday to Friday – Php 750.00
Saturday to Sunday – Php 860.00
Dinner with Hilot Massage
Monday to Sunday – Php860.00
I didn't want to use this phrase but yeah, appearances can be deceiving. Tribu Babaylan's aesthetique stays true to its tribal theme, but when we talk about the food, it's really just Cabalen with a spa and cafe.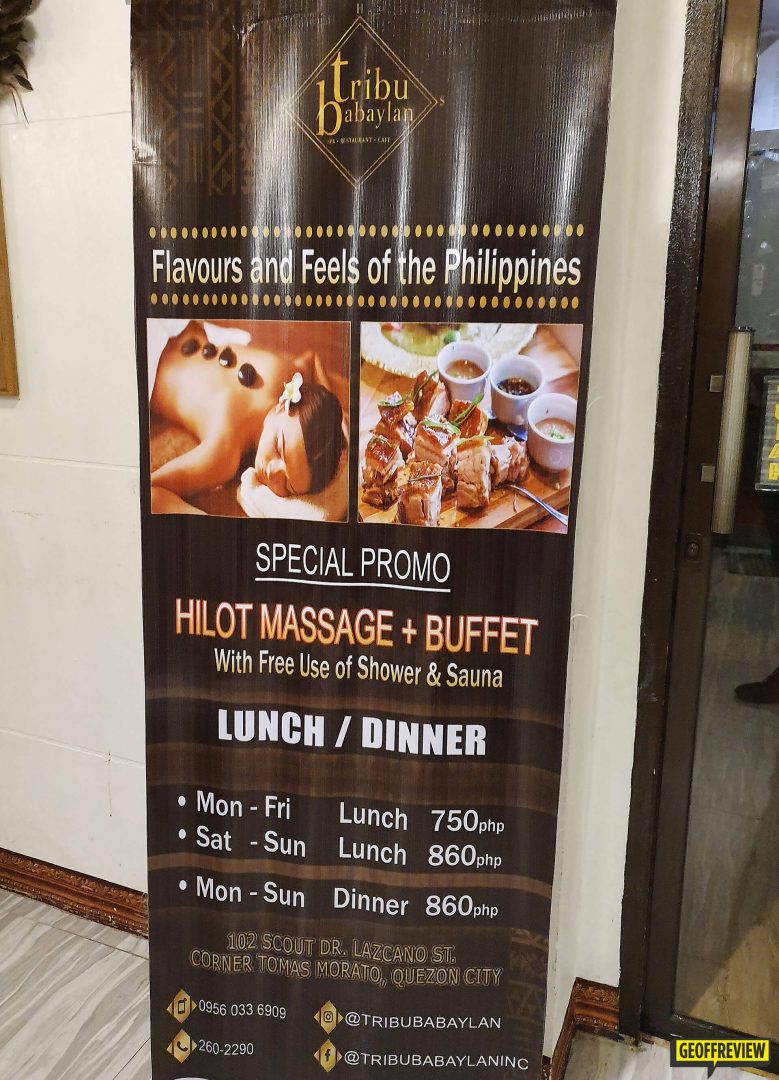 Tribu Babaylan