When talking about the foodie scene up north, one of the places on top of mind is usually Maginhawa at Teacher's Village, Diliman. It's no surprise really, given how this ever-changing foodie hub always has new restaurants popping-up, extending all the way to Malingap Street and Sikatuna Village. However, there's another area of Quezon City that definitely deserves more conversation – Tomas Morato. This place is home to a lot of lesser-known, even underrated restaurants that rival those based in other foodie scenes like Maginhawa or Kapitolyo. One of my recent discoveries in Tomas Morato is Vagabonds Artisan Comfort Food.
Conveniently located at the corner of Scout Limbaga and Scout Torillo streets, Vagabonds Artisan Comfort Food takes pride in their steaks, wings, and pasta. Unless you take a closer look, it's hard to recognize it as a restaurant from the outside, but the moment you step in, you'll be greeted by warm and brightly colored interiors that are spacious enough for family gatherings or office lunch-outs.
A lot of items on their menu look tempting, so we asked for their best-selling specialties instead. Here are the dishes that we had.
1000 Grams Steak – Php 1,800.00
The name of the dish says it all! What you get is a kilo of premium USDA hanging tenders made more flavorful with different kinds of spices. We had our steak medium rare, with a bit of char on the outside but still firm and tender on the inside. The smoky taste is already good enough, but you can also dip it in gravy, chimichurri, teriyaki, or barbecue sauces for added flavor.
Flavored Wings – Php 220.00
We ordered two of their Flavored Wings – the Tagalog's Best and the Belgian Wanderer, both ar Php 220.00 per order.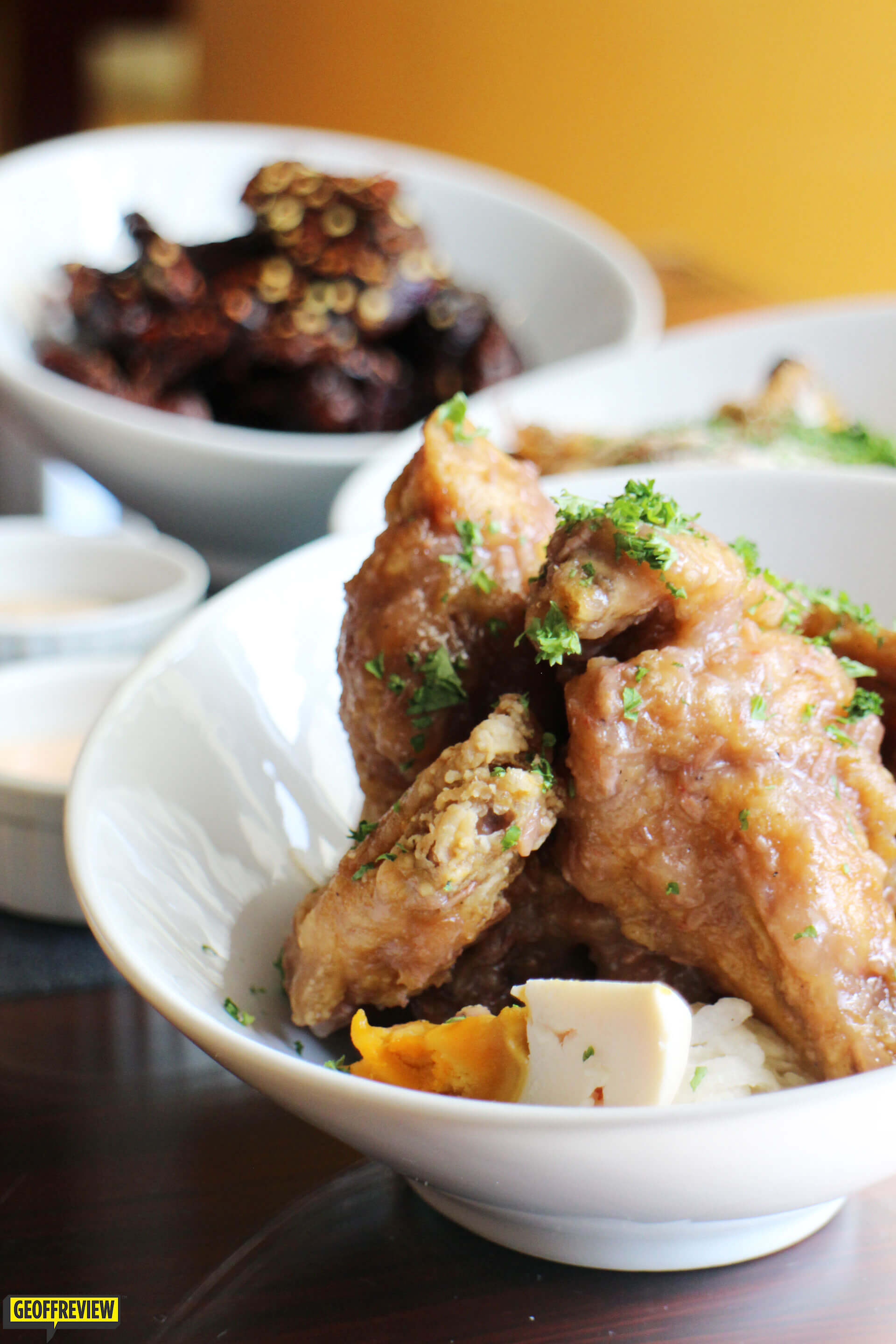 The Tagalog's Best is bagoong-marinated chicken wings that come with a slice of egg and what I believe to be pickled green mangoes. The bagoong taste can be a bit overwhelming, especially if you eat the chicken without rice, but dipping it in the Peanut Butter Aioli dip does wonders to flavor.
I'm a bit wary of chocolate-flavored savory food (I have nasty memories of chocolate flavored chicharon) but to be fair with the Belgian Wanderer, this one actually works! Chicken wings are cooked in a blend of chocolate marinade, sprinkled with Spanish Paprika. Not the best thing to go with rice, but it's perfect with the Pimiento Aioli dip.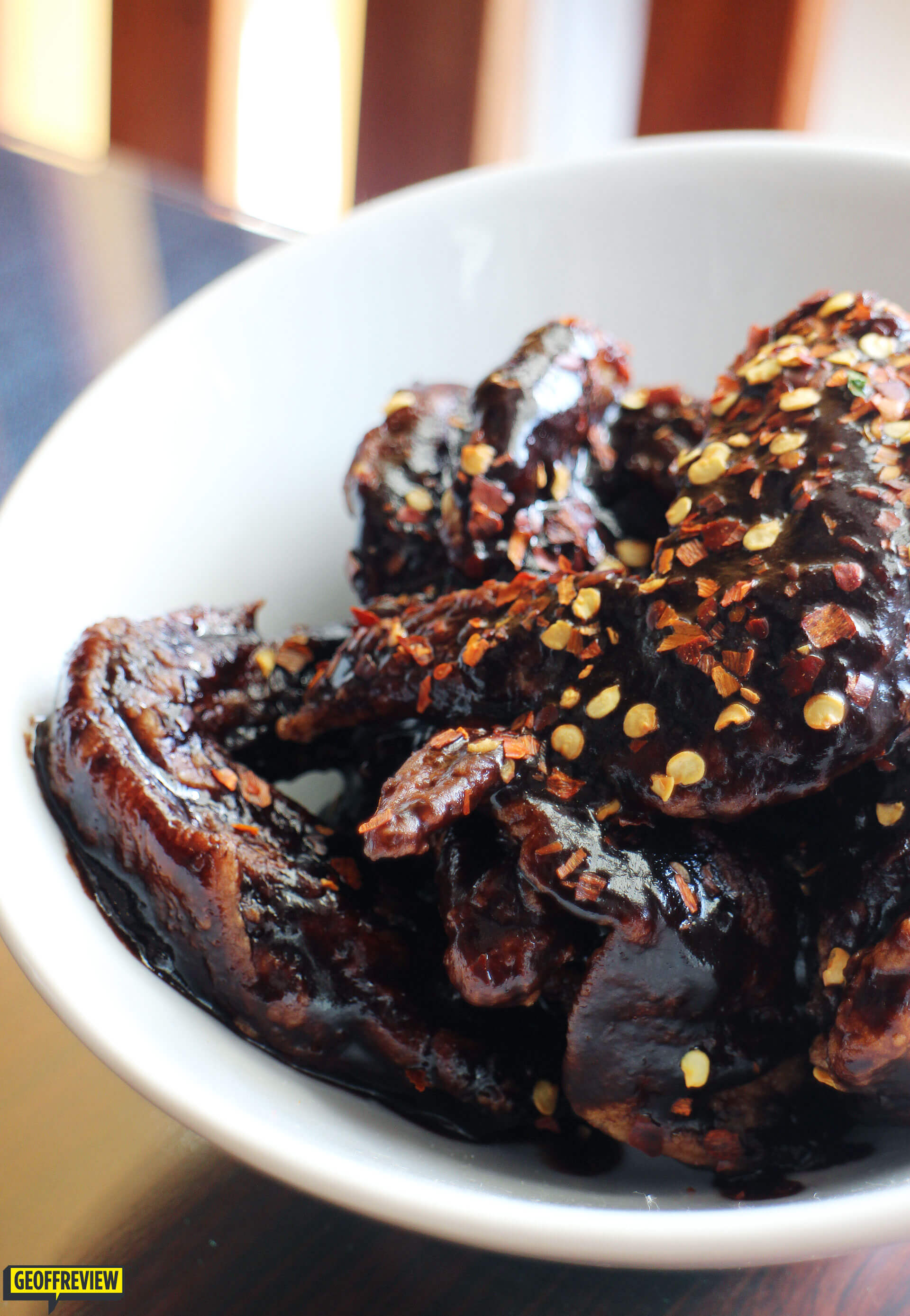 Blue Cheese Mac & Cheese – Php 280.00
I've already mentioned several times in my blog that I'm not a fan of cheesy food so I didn't really dig in to the Bleu Cheese Mac & Cheese. My foodie buddies though liked the touch of balsamic reduction and honey on this one. Just be sure to eat it while it's hot to fully appreciate the cheesy overload.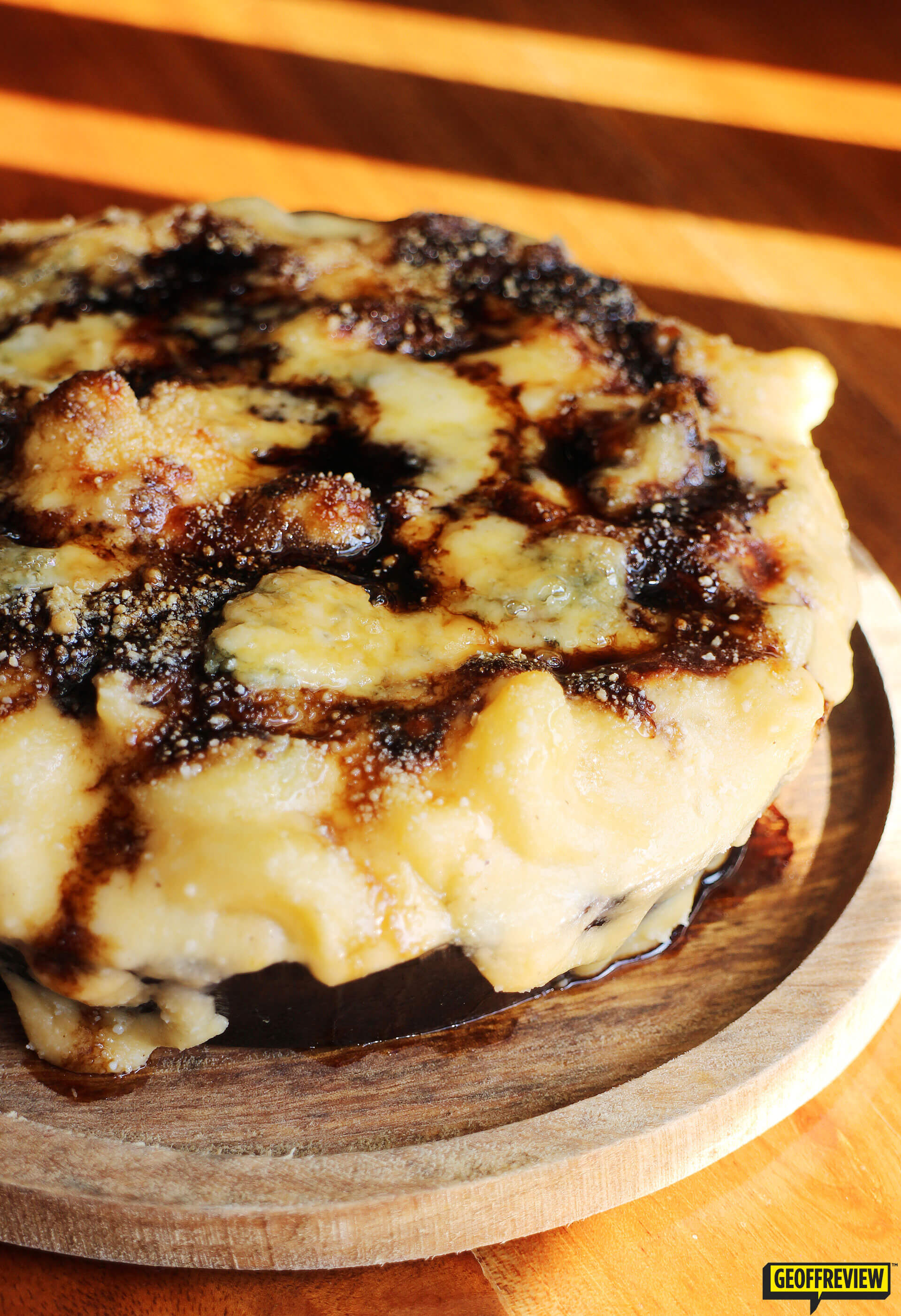 Pulled Pork Fries – Php180.00
This is one of those times when the Extras are actually one of the best parts of the menu. Aside from the 1000-gram steak, the pulled pork fries was the highlight of the meal. A generous amount of fries are served with sweet pulled pork and spices! It's hard to believe how this is sooo good yet more affordable than Potato Corner's Tera fries!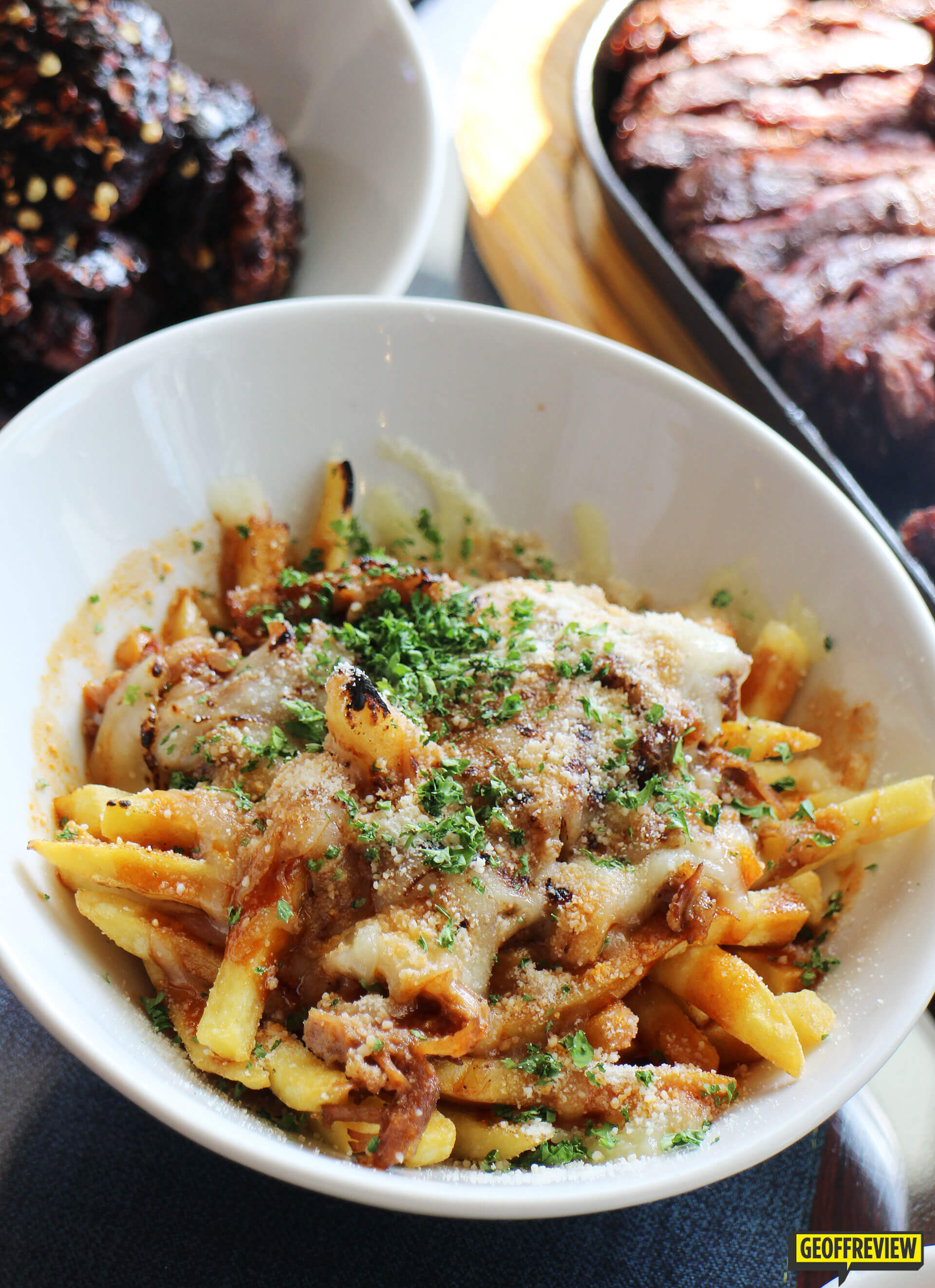 If you happen to be around Quezon City, skip the usual and give Vagabonds Artisan Comfort Food a shot. The food is good enough for sharing, so this would be a nice place to have your Sunday family brunch, or if you wish to treat guests with tasty comfort food. Will go as far as saying that this is the best place to eat in Tomas Morato.
Vagabonds Artisan Comfort Food
Address: RGI Building, Scout Limbaga Corner Scout Torillo Steet, Sacred Heart, Tomas Morato, Quezon City
Restaurant Hours: 11am – 11pm
Contact Details: +639566330854, +632281774
Facebook Page