Smaller and Smaller Circles Full Movie Review: In some ways, seeing a film adaptation before reading the book it is based on may turn out for the better. You don't end up being too critical of the deviations from the source material, and in the case of crime thrillers like F.H. Batacan's Smaller and Smaller Circles, you don't get spoiled of the important details in the plot. You enter the cinema not knowing who the killer is, and you try to guess along with the characters as they find clues to solve the crime.
I haven't read F.H. Batacan's mystery novel yet, but several of my friends have a lot of good things to say about Smaller and Smaller Circles. Set in the 90s, the film follows Jesuit priest and forensic anthropologist Father Gus Saenz, who works with the NBI to track a serial killer that targets young boys in Payatas. What's mysterious about the killings is that the bodies of the victims all have their hearts torn out, their faces peeled off, and their genitals cut off from their bodies.
Smaller And Smaller Circles Movie Trailer

Smaller and Smaller Circles Full Movie Review
Though set in the 90s, several elements and events in the film adaptation of F.H. Batacan's Smaller and Smaller Circles are still relevant today. In fact, the story is not too hard to relate to current events. In one scene, Father Gus laments at the injustice done to the victims of the killings:
"It's as if these boys do not matter"
Images of Kian delos Santos, Kulot, and Carl Arnaiz came to my mind. It may be a reach to say that director Raya Martin intended to reflect these recent events on his film (especially that Smaller and Smaller Circles the novel is published in 2002), but it's easy to see scenes in the film that mirror what is happening now in the streets and slums of our country. The scary part is that it's not a serial killer hiding in the shadows who does these merciless killings, but people who have sworn to protect us and are even doing it out in the open.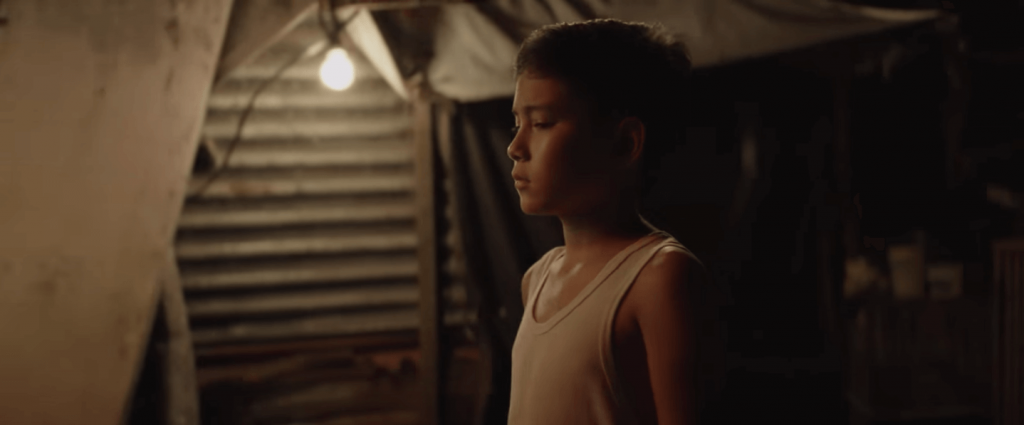 Politics aside, I can tell from the film how the novel has created a cult following. F.H. Batacan seamlessly weaves a storyline that feels so close to home, you'd think it's happening in your own neighborhood. Unlike other mystery thrillers I've seen where the fun part lies on figuring out who the culprit is, the charm of Smaller and Smaller Circles comes from the subplots peppered throughout the storyline. References to corruption and sexual abuse in the church, unreliable officials, pedophilia, and even allusions to depression, all come together in making Smaller and Smaller Circles a social commentary. One that is relevant in the 90s and sadly, still very much relevant today.
The movie itself treads on film noir territory. With a visual style anchored on dramatic shadow schemes, a murder investigation, and a voiceover narration, it's arguably one of the most gripping crime thrillers in local cinema. I'd happily put it beside my personal favorites such as On The Job, Respeto, and NEOMANILA.
The remarkable performances of Nonie Buencamino as Father Augusto Saenz, and Sid Lucero as Father Jerome Lucero were subtle yet effective, adding dimension to their characters without going over the top. Oh and be prepared for a barrage of cameos too!
Smaller And Smaller Circles comes out in Philippines Theaters on December 6, 2017. Insider tip: There may be a Smaller And Smaller Circles sequel brewing!