Amorita Resort Review: A 3-Day Vacation At Amorita Resort Bohol: When you think of Bohol, the first things that may come to mind would often be the world-renowned Chocolate Hills, or the irresistibly cute yet highly endangered Tarsiers. When I was in school, I remember that whenever Bohol was discussed in class, the Chocolate Hills and the Tarsiers would be the primary tourist attractions associated to the beautiful province. While it's true that these are must-visit destinations, another reason for you to love Bohol would be its clear waters and white sand beaches.
Earlier this month, AirAsia took me on a memorable trip to Amorita Resort Bohol. It's a shame that prior to this trip, I have never been on this wonderful province, but I'm happy that my first trip here was hosted by Amorita. Located on Panglao Island, this luxury beach resort, sits atop a limestone cliff overlooking the white sands and blue waters of Alona Beach.
This is going to be a loooong article so if you can't read through the whole thing, watch the video below:
Vlog: Amorita Resort Review
Amorita Resort Review: Day 1
Together with other food bloggers, we landed on Bohol via AirAsia at some time past noon. We were picked-up by vans and went on a thirty-minute ride to Amorita Resort. The moment we entered the gate, we knew that we were in for a treat! The ambiance, architecture, and service are premium. As we walked through the lobby, we were offered with wet, minty towels and lemon grass juice, which I readily accepted because I badly needed to cool off from the heat.
Walking around Amorita Resort Bohol is already an experience in itself. The whole place is surrounded by lush greenery, yet easy enough to navigate on your own. Amorita Resort's location atop a cliff gives you a unique view that you definitely won't have in the neighboring resorts. Two infinity pools overlook Alona beach, although you can also go on a short walk to the beach itself if you wanted to.
Saffron Restaurant
Thankfully, we made it to Amorita Resort Bohol's lunch offerings. Normally, lunch and dinner are served ala carte, but that day we were treated to a lunch buffet by Amorita's Saffron Restaurant.
I was still full from a nice meal of Uncle Chin's Chicken Rice, which was served on the plane as part of AirAsia's in-flight Santan Menu and yet, I couldn't resist the dishes served at Saffron restaurant. There are salads, bread, pansit, and healthy options too like the Quinoa salad. My favorites though, were the desserts. I especially loved the Leche Flan – Ube Halaya, and the Turon.
The Room
After lunch, I got our keys and headed to our room, which if I'm not mistaken is a Junior Suite with double beds. It was a large, elegant room that has all the hotel essentials – a small fridge, flat-screen cable TV, hair dryer, in-room safe, and the usual toiletries. Two sinks are facing the shower and toilet areas, which are also conveniently separated. What I love the most about our room is that it's spacious enough to accommodate even more than two people. It just goes to show that Amorita Resort Bohol prioritizes comfort together with convenience and design.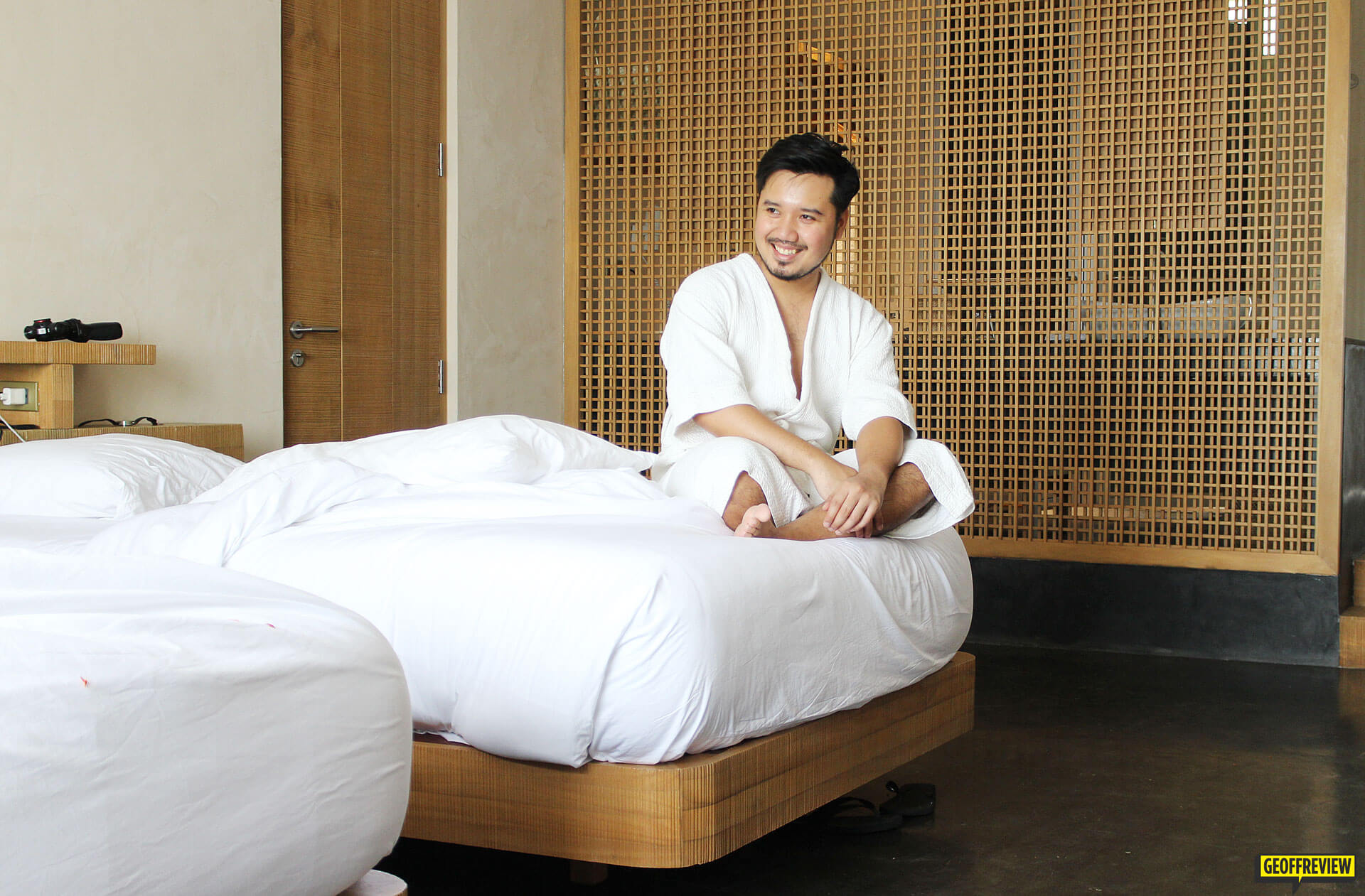 Sea Tree Spa
Not long after I settled, I called the Sea Tree Spa, to schedule a much-needed massage. Located just a few meters away from Saffron restaurant, the Sea Tree Spa offers a range of treatments from authentic Filipino massage therapies. You even have the option to have your massage by the beachfront!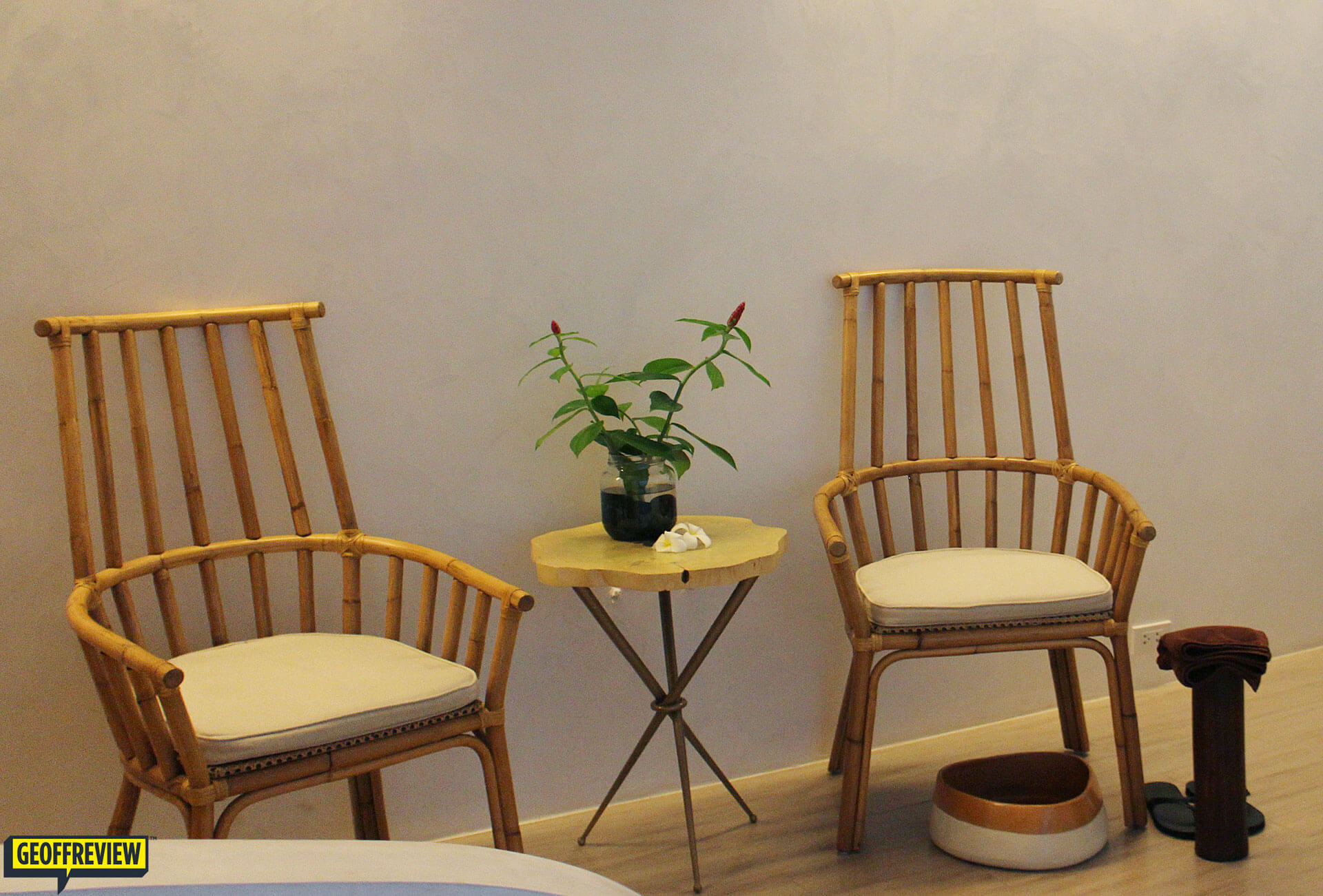 Tomar Tapas x Bar
Dinnertime was a sumptuous buffet of Spanish cuisine paired with refreshingly sweet sangria. I actually think that this was the most delicious meal during my whole stay at Amorita Resort Bohol. There were tapas, calamares, gambas, croquetas, as well as two different kinds of paella – Paella Negra and Paella Valenciana. For dessert, we had light, crispy churros. I may have poured too much chocolate on my churros but it was so good that I had no regrets gobbling up all those calories!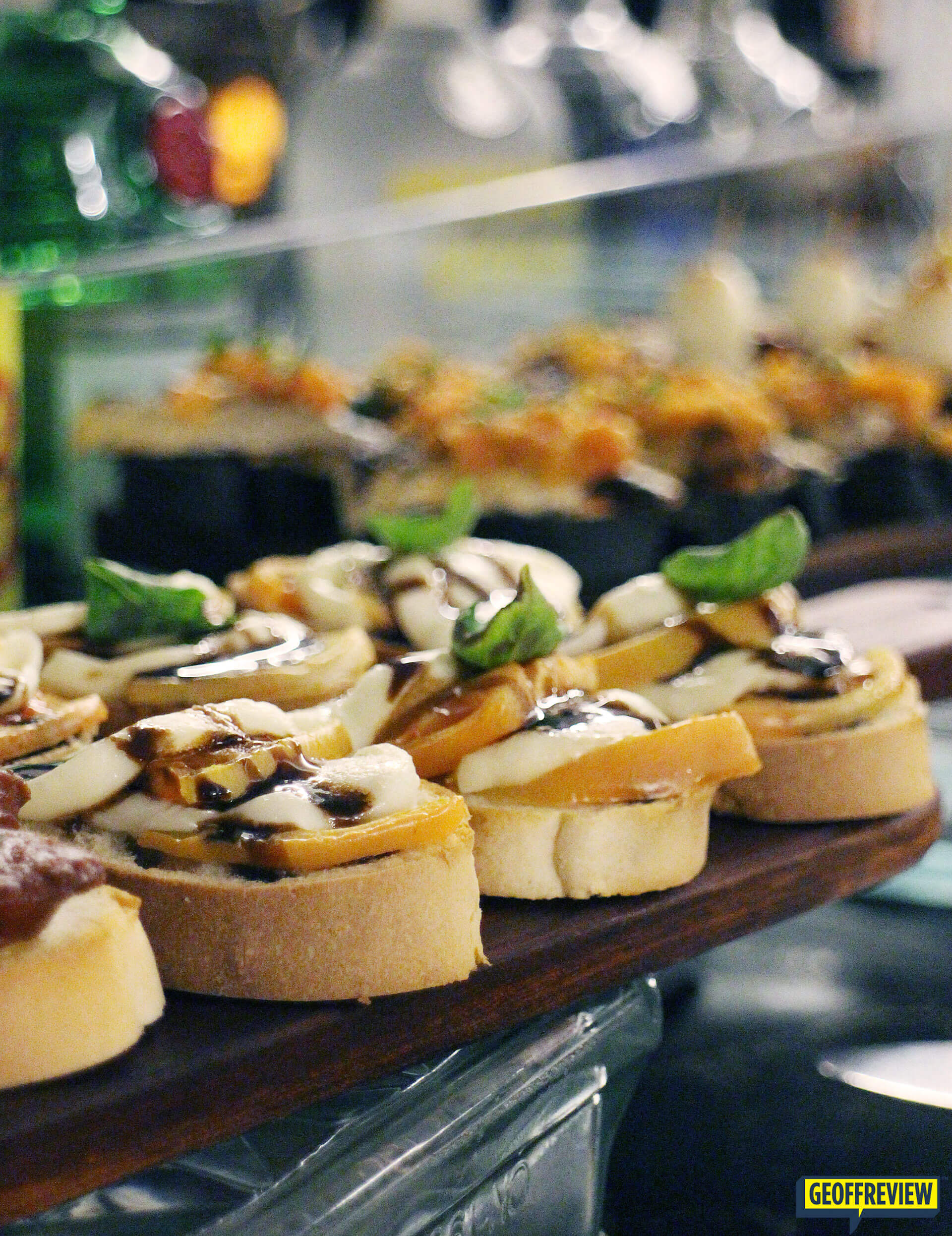 Amorita Resort Review: Day 2
Sunrise Yoga at the Cliff Deck
An optional yoga session at Amorita Resort's cliff deck was supposed to be a part of my schedule for Day 2, but I overslept and missed the 7am yoga. Who can blame me though – I had a nice, comfortable bed plus I may have drank more sangria than I could handle the previous night! Yoga sessions are being offered complimentary at Amorita Resort Bohol at 7AM on certain days of the week. You may also request for private yoga sessions when a yoga teacher is available.
Breakfast Buffet at Saffron Restaurant
I may have missed yoga but there's no way I'm missing our breakfast buffet. Despite the small space, Saffron Restaurant's Breakfast Buffet has just enough options for the kind of breakfast that you may want. There are cereals, breads, salads, and rice meals. Fried eggs and omelets are prepared upon request at the cooking station, which is also where you'll find a mouthwatering mound of crispy bacon! Aside from the bacon and eggs, my favorites from the buffet are the hashbrowns, baked beans, adobo, and the fresh fruits.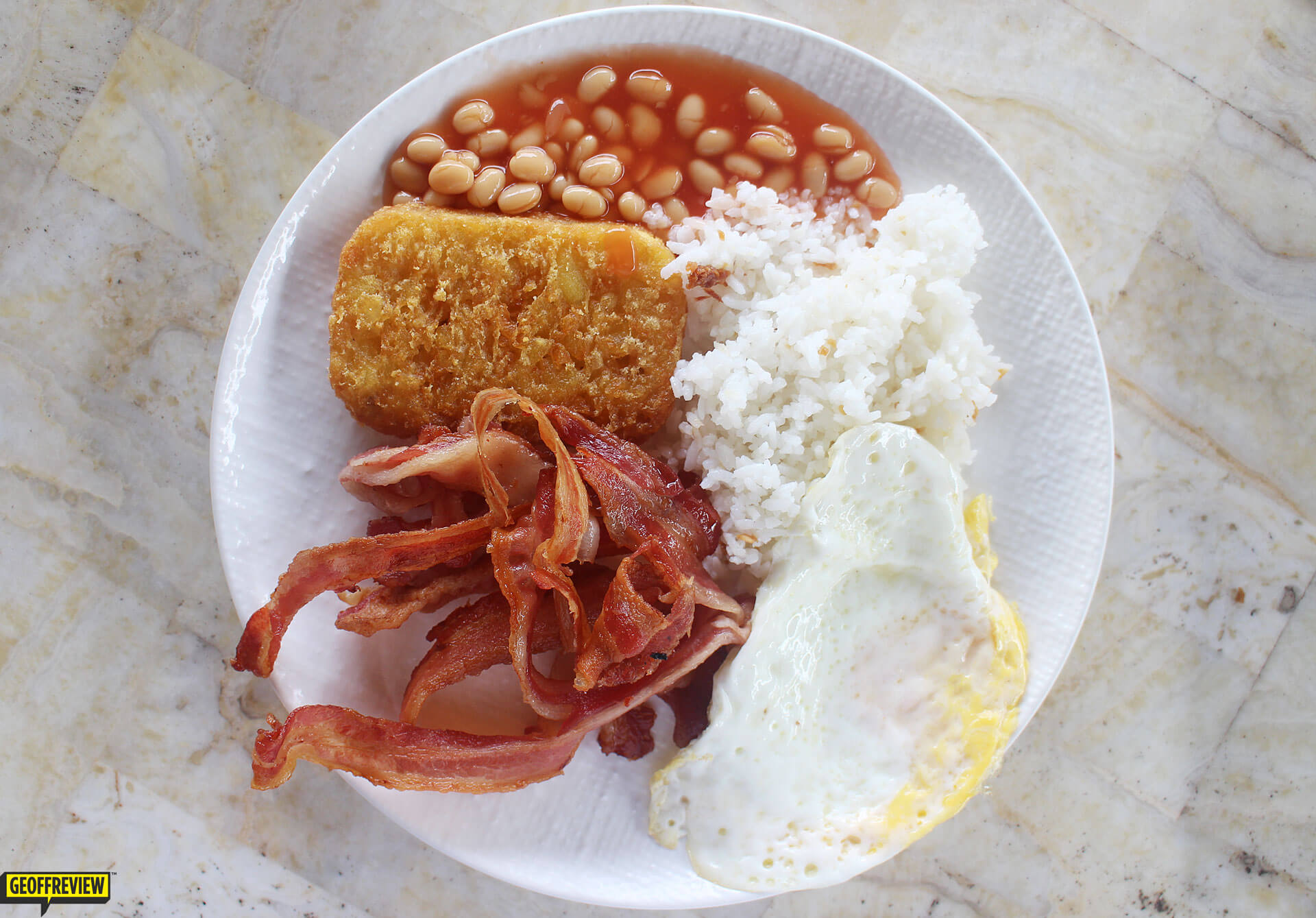 Lunch at the Beach Tree Café at Momo Beach House
The first and only time that we left Amorita Resort is when we went to the Beach Tree Café at Momo Beach House. Located around 15-minutes away via van from Amorita Resort Bohol, Momo Beach House is a quaint boutique resort that exudes a chill and laidback vibe. It has a stunning seaside view and lots of Instagrammable corners. The rooms are also pretty, having vibrant pastel colors and a fun, quirky design. For lunch, we had pizza, pasta, and some nice, fresh salad.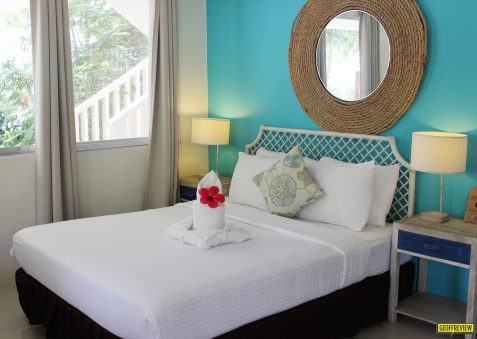 AirAsia Presents the Latest Addition to its Santan Menu
Not long after we got back to Amorita Resort Bohol from Momo Beach House, AirAsia gathered us at the Saffron Garden to present the latest additions to their Santan Menu – the Chicken Bicol Express, Chicken Kare-Kare, and Beef Tapa. Despite being full from lunch, I still manage to finish up the dishes served to us, because they're incredibly good! Read about AirAsia Santan menu here: #AmoritaXAirAsia: Introducing Air Asia's New Santan Meals
Sunset Cocktails by the Beach
On Wednesdays and Fridays, Amorita Resort offers cocktail drinks to guests, on the house from 3pm to 7pm. I didn't let this chance pass so I headed to the cliff deck right after AirAsia's presentation. Together with other guests, we sipped cocktails prepared by the Amorita Resort staff and socialized while enjoying a nice view of the beach. If you stay long enough, you may get a breathtaking view of the sunset with the warm sea breeze.
I liked this gesture of Amorita Resort because it shows how they value their guests. It tells us that staying in Amorita is not just about the rooms; it's a one of a kind experience in itself! Having free cocktails on top of a cliff is an experience you probably won't have in any other resort near the area.
A Feast Under the Stars – Dinner at Cliff Deck Garden
To cap off the night, we literally feasted under the stars for dinner. A buffet spread of pork belly, kebabs, and a huuuuge snapper fish filled bellies. Clams were also cooked with garlic right in front of us, and there's even a shawarma station (which is what I loved the best that night). There was laughter, good conversations, and nice music.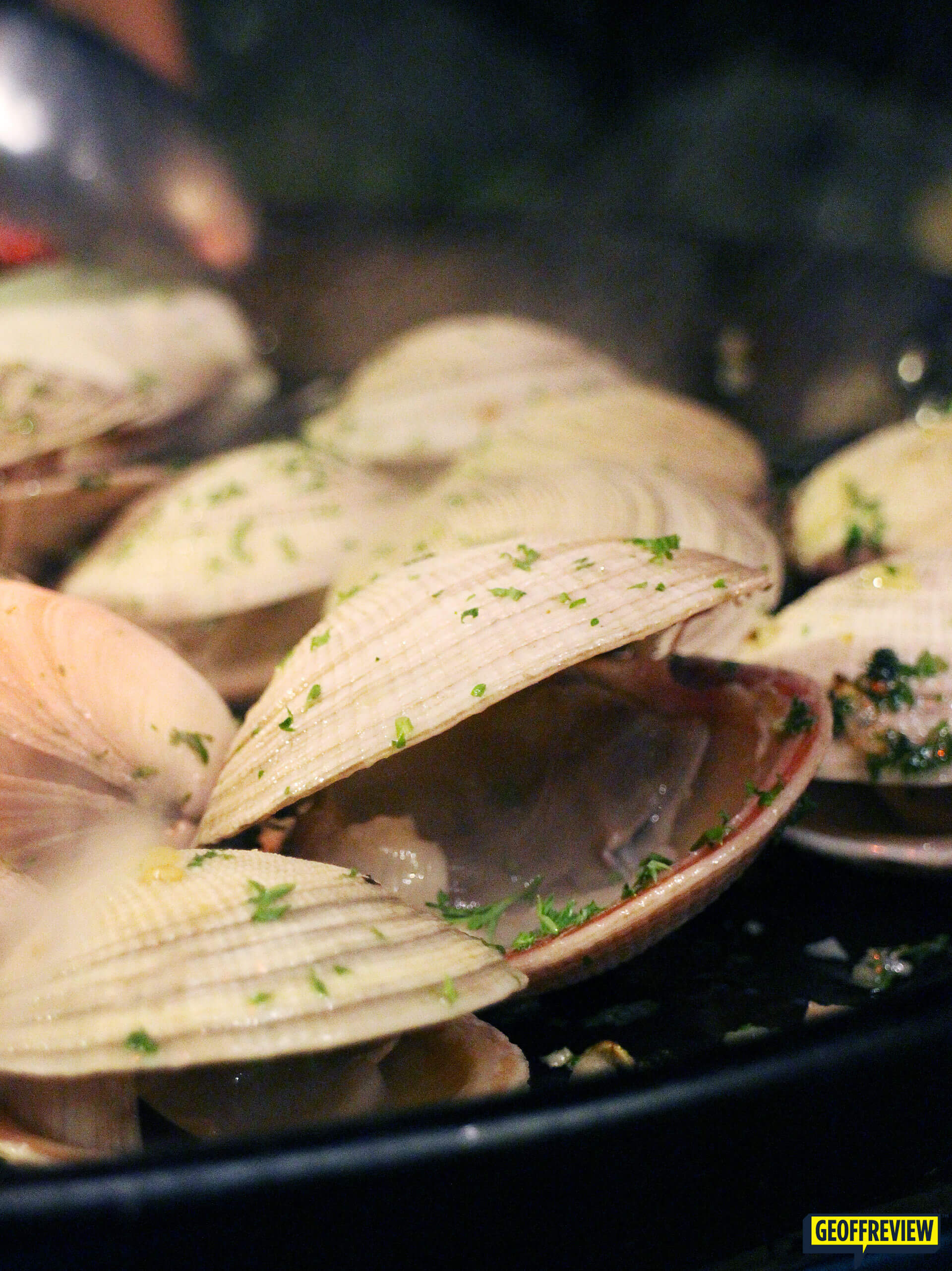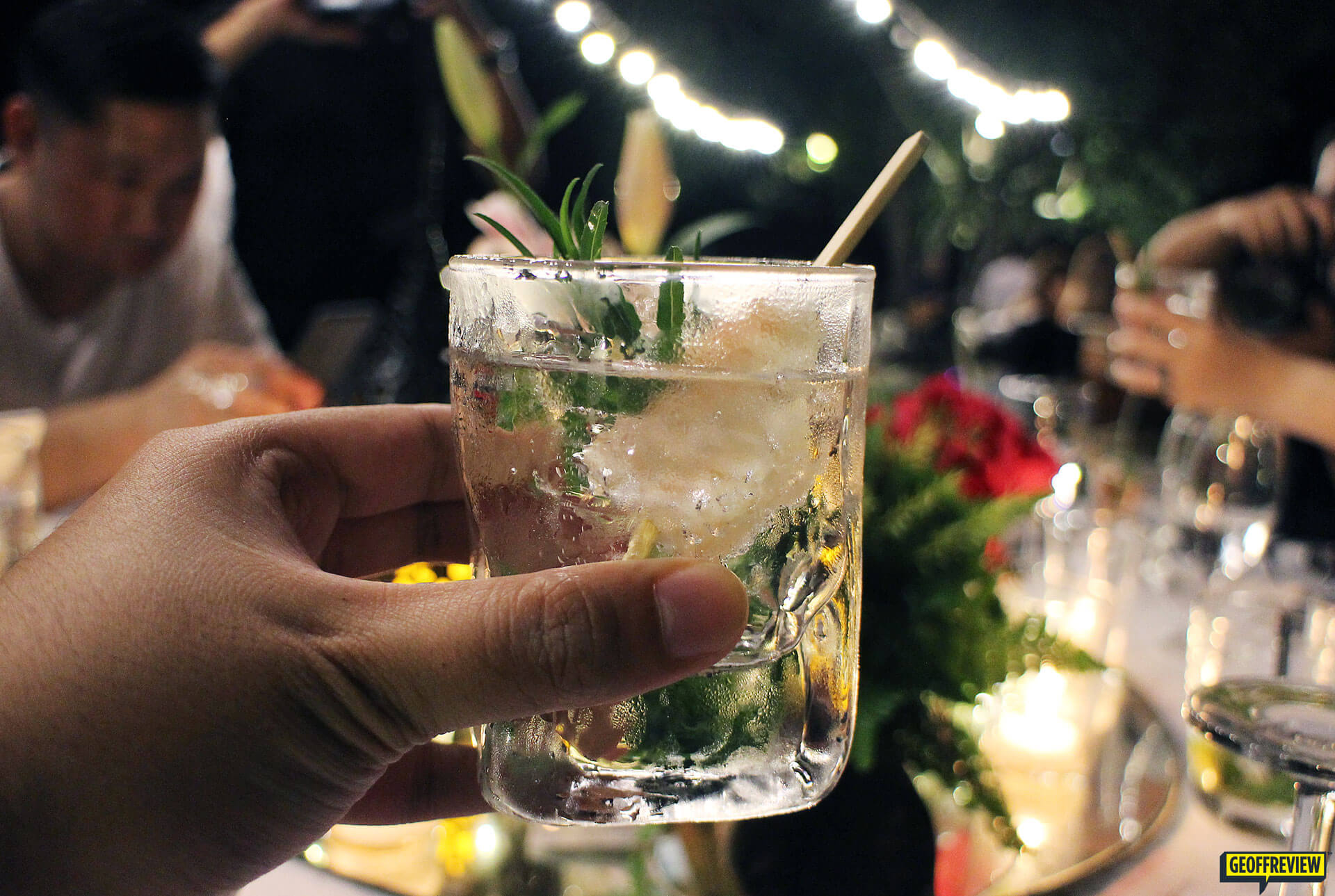 Amorita Resort Review: Day 3
Day 3 is when we fly back to Manila, and so after a hefty breakfast at Saffron Restaurant (I'm glad they still had the bacon, hash brown, and baked beans), we packed up and went on a thirty-minute ride to the airport. It was bittersweet having to leave Amorita Resort Bohol so soon, but all good things must come to an end. As we left the gates, I made a mental note to be sure to come back later this year, especially that I didn't get the chance to visit the Chocolate Hills and see the rest of Bohol.
Flying back to Manila was a breeze. It's no surprise given that the President and CEO of AirAsia Philippines, Captain Dexter Comendador himself, was the pilot of our trip! Not a lot of people get the privilege to fly with "first flying pilot-CEO of an airline in the Philippines"!
My vacation at Amorita Resort flew by so fast! Time really does fly faster when you're having a great time! If you're planning a trip to Bohol soon, I highly recommend Amorita Resort for your accommodation. If you're looking for a more affordable option, Momo Beach House would be a great alternative too! Just be sure to book way ahead because they get fully booked fast!
Thank you for reading our Amorita Resort review. If you wish to book your rooms at Amorita, click here. For Momo Beach House, click here.
Amorita Resort
#1 Ester A. Lim Drive,
Barangay Tawala, Alona Beach
Panglao Island, Bohol
T: +63 38 502 9003
M: 0917 726 4526
Momo Beach House
Barangay Bil-isan, Momo Beach Panglao Island, Bohol, Philippines 6340
Tel: +63 (2) 5539549, 8561443
E-mail: inquiries@momobeachhouse.com
Sales & Reservations (Amorita Resort and Momo Beach House)
T: +632 856 1443 | 553 9549
M: 0917 861 9441
E: inquiries@one-ofcollection.com
Mondays to Fridays: 8:00AM-6:00PM
Saturdays: 9:00AM-12:00NN