When booking a flight with my friends or family, food wouldn't normally be one of their top concerns. Understandably, their primary considerations are the rates, schedules, seating, even the leg room. These are all valid, but personally there's one more standard that I check when booking my flights – FOOD!
It's no surprise that food is sometimes a part of my criteria, because the itineraries of most of my recent travels are packed with food trips. Why not start when you're still at 30,000 feet in the air? In-flight meals are a huge deal to me, especially when my flight schedule covers lunch or dinnertime.
Among the local airlines, the best in-flight meals that I've tried are from Air Asia. I've been on several Air Asia flights and I'm not kidding when I say that their food is truly restaurant-quality. Earlier this month I went on a trip to Bohol and stayed at Amorita Resort (more about my Amorita experience in a separate blog post) via Air Asia. Since the flight was at 11am, we were served one of Air Asia's Santan Menu favorites – Uncle Chin's Chicken Rice. This Chinese – Malaysian dish is made of roast chicken slices served on top of seasoned chicken rice. The dish also comes with Uncle Chin's special secret chilli, ginger and garlic sauce. Needless to say, I flew to Bohol that day with a happy tummy!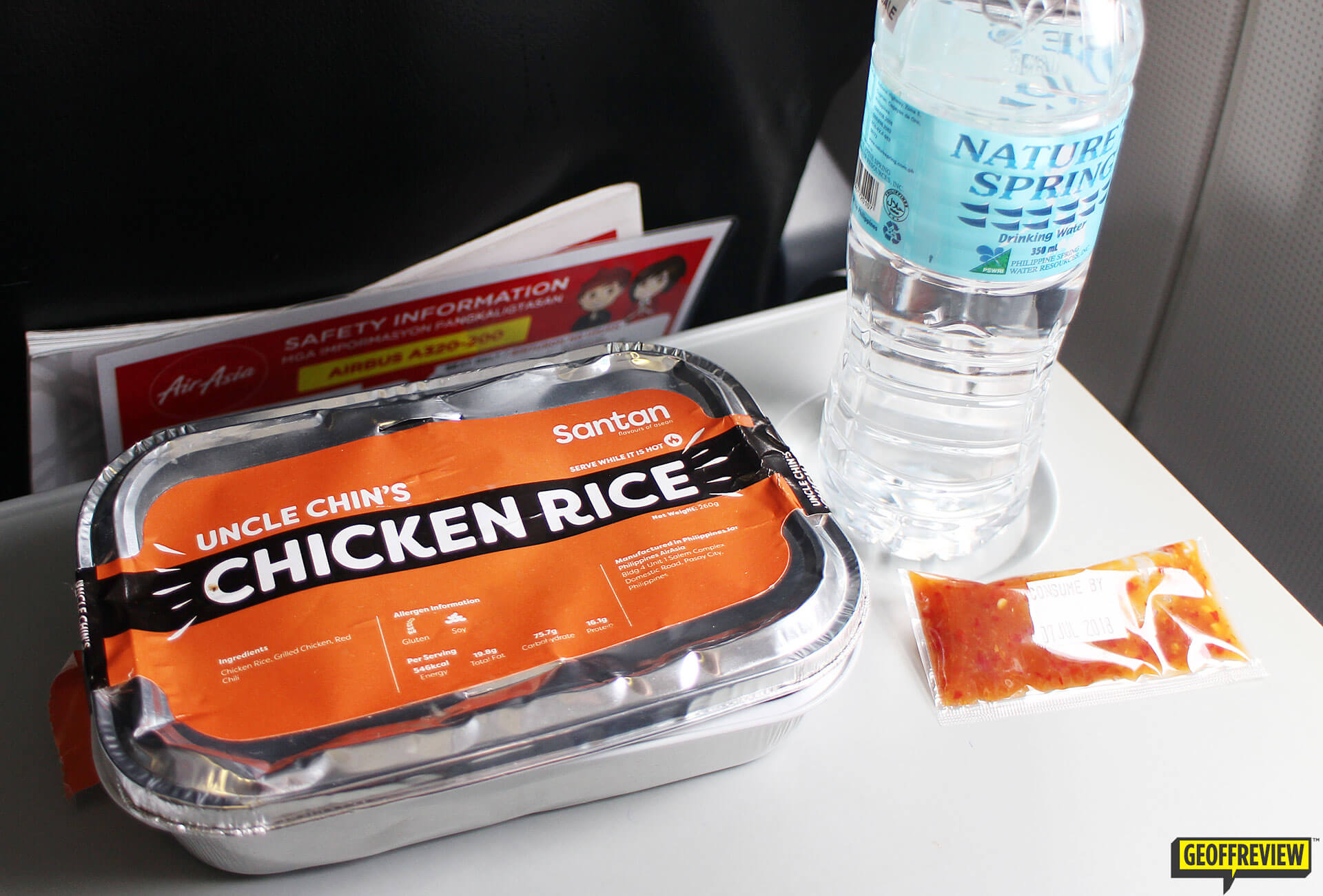 Part of my trip to Amorita Resort in Bohol is to witness the launch of the latest addition to Air Asia's Santan Menu. Not to be mistaken for our local flower, "Santan" is more commonly known as coconut milk. The Air Asia Santan Menu offers a selection of Asean dishes that cater to different tastes, including halal and vegan options too! During my stay at Amorita, I was one of the few who got first dibs at tasting these new Santan dishes that are specially prepared for our distinctly Pinoy palate.
AirAsia Food Menu: Santan Menu Additions
Chicken Kare-Kare
Chicken Bicol Express
Beef Tapa
Many of the meals in Air Asia's Santan Menu are halal, hence the chicken Kare-Kare and Bicol Express. Both of these dishes are incredibly good, that writing about them now is actually making me hungry! The chicken strips in both dishes were tender and the sauces are flavorful. If I could, I won't mind having these for my baon every day! Note though that the Kare-Kare contains nuts, so you may have to check other options if you are allergic.
The beef tapa was served shortly after we finished the Kare-Kare and Bicol Express. In true Pinoy silog fashion, the beef tapa is also served with scrambled egg. There were generous servings of the beef tapa (which is the garlicky type, not the sweet one), and the scrambled eggs were also fluffy and buttery – just the way I want them to be.
Another thing that I liked about Air Asia's in-flight meals, is that the package states useful information about the dish that you're having. The ingredients are printed on the lid, together with the allergen information, and event the calorie content!
If you're not in the mood for a full meal, Air Asia also offers Spinach and Tuna Sandwiches, and also cookies as part of their menu.
Aside from the food itself, Air Asia also showcased their environment-friendly merchandise as an effort to help preserve the environment by lessening our plastic waste. Air Asia now offers metal straws as an alternative to those one-time use plastic straws, and bamboo toothbrushes to use in your travels. To be fair, Amorita Resort appeared to be environment friendly too! Instead of giving us plastic bottles in our rooms, we had one large glass bottle, which may be refilled with water once empty. Amorita truly is the perfect partner to Air Asia during this trip.
I'll be sharing with you my experience at Amorita in a separate blog post. I had such a relaxing yet fun vacation, that it merits one whole blog post dedicated to it. I just got back here in Manila yet I can't wait to go back!
See the video teaser below of my #AmoritaxAirAsia experience. Watch out for the full vlog later this week!