Sudio Nio Review: Is it just me or is there an unspoken rule that you immediately look cooler in Zoom calls when you're wearing wireless earphones? After being in quarantine for over a year, I've been in countless webinars and online calls, and all this time I've been using my old wired earphones for a couple of reasons – one I think that the audio quality of wired earphones is relatively better than wireless ones. Second, most popular wireless earphones are expensive! Airpods Pro for example costs Php 14,990 (USD 308)!
An Airpods Alternative
I came upon the brand "Sudio" recently and I say the have a really good collection of stylish yet affordable wireless earphones and speakers. If you haven't heard of Sudio yet, they're a Swedish lifestyle company that specializes in wireless earphones featuring minimalistic Scandinavian designs. One product that caught my eye is the NIO, which is one of their budget-friendly wireless earphones that I personally consider as an affordable alternative to Apple Airpods and Galaxy Buds. A pair of NIO wireless earphones only costs Php 3,800 or around 79 USD!
Sudio NIO Unboxing
As you open the box, you'll see the earphones case is neatly wrapped and secured. And right below is a smaller box containing the accessories and manuals. The package also comes with a warranty that you need to sign-up for within 3 months after your purchase in order for it to be validated. Aside from that, you also have an owner's manual where you'll see how to use the touch functions as well as the do's and don'ts of using the product.
You also get a USB Type C cord and I have to say that I appreciate its attention to detail here, with the cord itself being the same color as the case and the earphones. I also love the fact that you get several wingtips with 4 different sizes so you can choose which one best fits your ear.
Now onto the earphones itself. From here you can understand why I'm saying that this is the best budget-friendly alternative to airpods – it's because it looks very much like Apple Airpods! The style, the texture, even the length of the stem are very similar. If you really want yours to look like Airpods, then choose the white color. In my case, I got the "Sand" color, which I like because of its neutral hue. Aside from that, other standard colors of the NIO that are available are black and green.
Watch the Sudio NIO Unboxing Video below:
Sudio NIO Review
I used my Sudio NIO earphones for a few days, especially when working out. I say that its claim that it is sweat-resistant is true, as it had no trouble playing my music despite being drenched in sweat. It also helped that it has a nice, snug fit because I didn't have to worry about it falling off even with all the stretching and cardio that I did.
Of course I also used it during Zoom calls (since part of my reason why I wanted wireless earphones is to look cooler in camera lol). To check its Dual Microphone System, I asked my friend at the other end of the line if there's an improvement in the audio quality. He said that he didn't really notice any particular difference or improvement in my microphone when using the NIO, compared to when I used my wired earphones. I took this as a good sign because generally I think wired earphones register their mics better, so the fact that the NIO has the same mic quality as wired earphones is a plus for me.
What I am not a fan of though are the wing tips. When I use them on the earphones, it feels a bit tight to wear, no matter what size I use. I ended up using the earphones without the silicon wing tips, and I didn't mind because it already fits well on its own.
The Limited Edition Sudio NIO Aurora
Last month, Sudio launched the limited edition NIO Aurora. It has all the features of regular NIO models but this one has a unique emerald color, imitating one of the many hues visible in the night's sky above Sweden as the aurora borealis illuminates the darkness.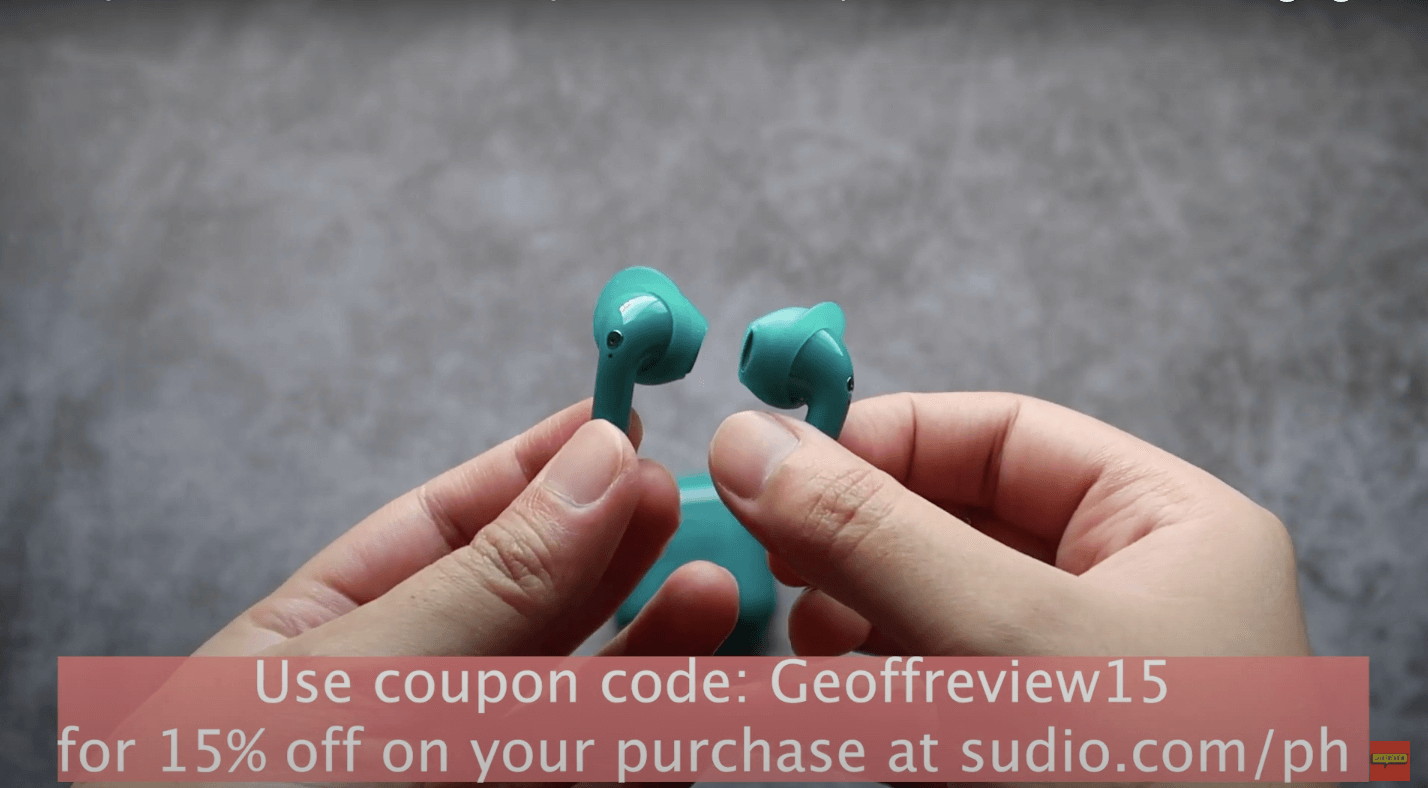 The best part is that even though the Sudio NIO Aurora is a limited edition color, the price is still the same at Php 3,800!
Sudio NIO Discount Code
I know that the Sudio NIO is already affordable considering its quality, but you can get more savings by using my discount code! Use the promo code Geoffreview15 to enjoy a 15% discount to your Sudio NIO purchases. Get your Sudio NIO, Sudio ETT, or FEMTIO Speakers through the links below: