If you take a look at my Instagram account you may notice that I rarely post photos of myself. My feed is made up mostly of food shots and videos, which is great since it reflects just how much I enjoy different kinds of cuisine. But every now and then I also post portrait shots to break the monotony of nonstop "foodporn", and also so that my followers would also know that there's actually a real, human face behind my account.
But as much as I wanted to post more pictures of myself, I haven't really mastered my selfie game. I've gotten used to take pretty pictures of food that somehow I have lost my skill of taking pictures of people, including myself!
The Instagram generation as led smartphone brands to make more investments on camera performance. OPPO has been marketing the OPPO F1 as a "selfie expert", while Huawei has also started using Leica technology in its cameras. Not to be outdone, Sony has also released its own champion to compete in the selfie-smartphoens arena – the Sony Xperia XA2 Ultra.
Sony Xperia XA2 Ultra Review
Design
Upon unboxing you'll see that the Sony Xperia XA2 Ultra is a noticeably large phone. It is 6.4" tall and 3.1" wide, which may be too overwhelming if you're not a fan of phablets. Admittedly, some users may also have some trouble typing with only one hand. Personally though, I prefer larger phones because I'm more comfortable typing with both hands. I also like larger screens because my phone usage is heavy on video streaming and mobile games. That said, I enjoyed watching videos and playing games on the Xperia XA2 Ultra's huge, full HD display. The bezels at the top and bottom of the phone may be unflattering, but the unit compensates by having less border at the sides.
The fingerprint sensor is conveniently located at the back of the phone, just below the camera. Given the phone's size, I think this is a strategic location, as I can imagine that it wouldn't be ergonomic if it was located at the bottom front.
The Cameras – all three of them!
Aside from experience and design, one of my primary considerations in getting a smartphone would the cameras. Gone are the days when smartphones would have one rear camera and one front-facing camera. Right now, it makes sense if your phone has at least 3! In addition to the 23MP main camera, the Sony Xperia XA2 Ultra has dual front facing "selfie" cameras located on the left and right sides of the top bezel.

The first selfie camera is 16MP and has Optical Image Stabilisation for sharp, bright selfies. This camera takes decent shots in well-lit environments, but get a bit grainy in low-light settings. Not to worry though because after we used the front flash, the shots turned out pretty good even in dimly-lit surroundings.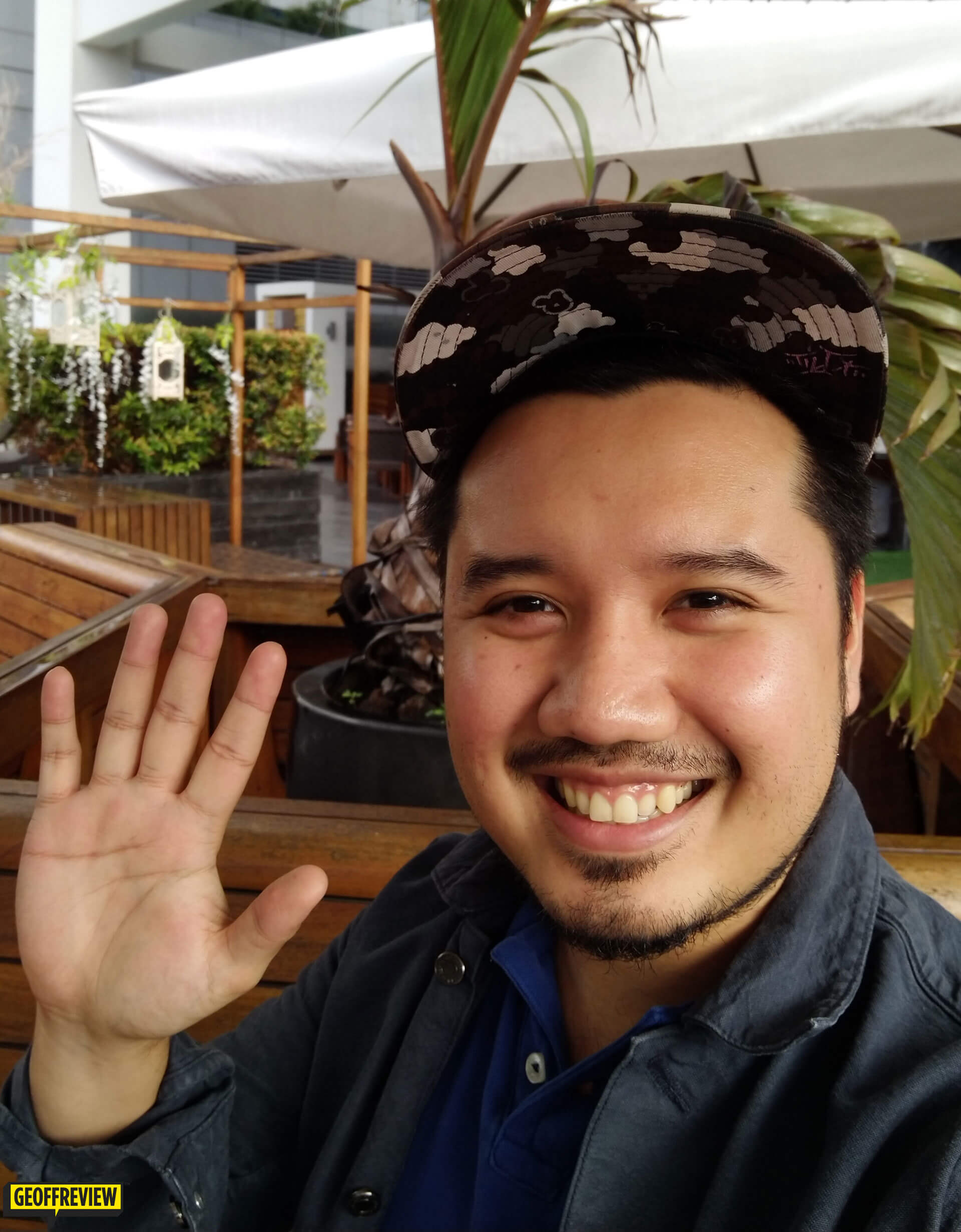 Ever had those moments when you're trying to take groups shots, but the whole barkada just can't fit in one photo? Then you yell "compress!" to everyone just so you don't miss anyone in the shot! The Xperia XA2 Ultra takes away this hassle with its 8MP "super wide" camera that can take wide, 120° angle photos. Check out the test shots below.
(L-R) Sample shots of the 16MP camera vs the 8MP wide-angle camera
Finally, the 23MP main camera boasts the Exmor RS™ technology for highly detailed photos. The phone also takes decent photos in low-light but I would still recommend using the phone's flash for more vivid shots.
(L-R) Sample shots in low lighting. With and without flash
Battery Life
The Sony Xperia XA2 Ultra carries an impressive 3,580mAh battery, which was more than enough for me to last the whole day by a single charge. We tested it for an entire day with moderate surfing on the internet, sending messages, and video streaming, and we still had enough juice by the end of the day. The Smart Stamina feature is a helpful tool in in managing your battery usage. It's efficient to the point that it can give you an estimate of up until what time your current battery will last. At which point you can shift to Stamina Mode, which will reduce phone performance in order to prolong battery life.
Conclusion
Its primary selling point may be its selfie cameras, but what I liked the best about the Sony Xperia XA2 Ultra is its large screen and full HD display. Its size is just the right build or watching videos and gaming. The powerful battery reinforces its performances, giving you hours of streaming videos and playing mobile games.
For the Sony Xperia XA2 Ultra Specs, click here.
|| Related: Paydro Live App Review