The Husband's Craving Buko Pie Review || Before the quarantine, the only time that I get to have some nice buko pie is when friends have pasalubong from Laguna, or when I happen to pass by one of those Colette's buko pie shops in Tagaytay. I don't understand why buko pie is rarely available in Manila. When you search for buko pie on Grab Food, the closest option that shows up is the Jollibee buko pie and trust me, it does not give justice to the real thing.
Lately one of the desserts that keep popping up in the foodie Facebook groups that I'm a part of is the buko pie from "The Husband's Craving". People who have tried it swear by how good it is, and from the photos I can tell that this is unlike any other buko pie I've had before. 
I did a little bit of research and I learned that The Husband's Craving is owned by Francheska Tan, a home baker who offers cakes, cookies, pastries, and yes, buko pies, from her Instagram shop. Judging by the name of her business, I'm guessing that this online bakeshop came to be as an effort to satisfy her husband's craving for good food. Lucky guy!
Unfortunately, The Husband's Craving is based in Tarlac, and they have no shops in Manila. It appears that I would have to wait until the quarantine is over before I can get my hands on those their buko pies.
That is, until I came upon this Instagram account with the username @thehusbandscraving_mnl. Did The Husband's Craving finally have a Manila branch? I sent them a message and I discovered that this account is being managed by Francheska's sister, and she is the one managing orders coming from Manila since Francheska herself cannot visit from Tarlac. I wasted no time and ordered one box of The Husband's Craving Buko Pie (Php 650.00), and paid immediately through GCash. Since I ordered on a Saturday, I was informed that the Buko Pie will be ready for pick-up by Tuesday of the coming week.
The Husband's Craving Buko Pie Review
I was promptly notified when the buko pie is ready for pick-up. The moment I opened the box and saw the pie in all its glory, I knew this was going to be good! In terms of appearance, what makes this The Husband;s Craving's buko pie different from the usual buko pies we know, is that it is topped with crumble, almost looking like those apple pies from Mary Grace and Banapple at first glance. I had to fight the urge to immediately have a bite so I can take some photos first!
I'm impressed by how soft and easy it was for the knife to cut through the pie. Even the crust itself was soft, yet it's able to hold the whole thing together and maintain the shape. Unlike those crusty buko pies from Laguna, this one is more delicate, it almost feels like slicing through cake.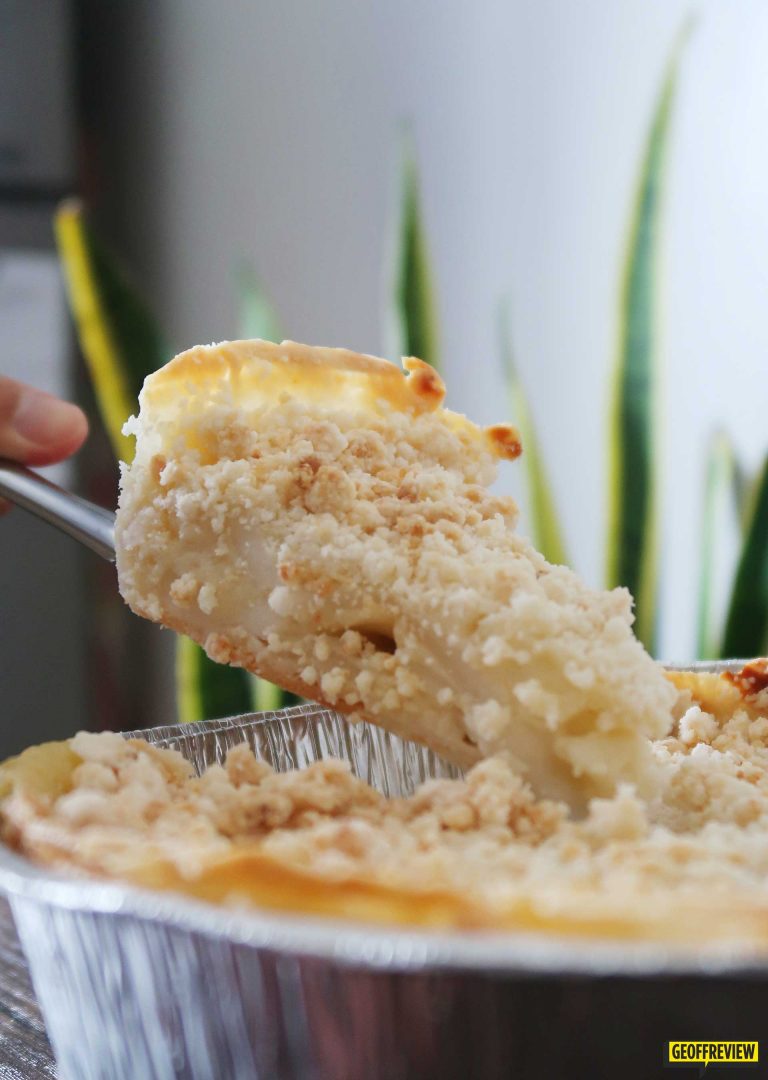 The moment my taste buds touched the pie, I knew in my heart that this has to be the best buko pie I've had EVER! Layers and layers of young coconut is sandwiched between cream that tasted like a delightful mix of milk and custard. The crumble adds a nice texture in every bite, while the crust is sweet and buttery – it even tastes good on its own. Every now and then you'll also get a surprising hint of saltiness, which works so well with the sweetness of the coconut and cream.
I kid you not  when I tell you that the whole pie did not even last me more than 2 days! One slice is just never enough! It's not too sweet, but creamy and flavorful enough to make you keep telling yourself that you'll have just one more bite.
Needless to say, I'm going to order The Husband's Craving Buko Pie again when I get the chance (and probably order two this time!). Their buko pies are not available all the time, so it's best to follow them on Instagram and be on the lookout whenever these goodies are being offered. To order, simply message @TheHusbandsCraving on Instagram or if you're in Manila, send your orders to @TheHusbandsCraving_mnl.
The Husband's Craving
Contact Number: 0997 8328146
Location: Tarlac
Instagram (Tarlac): https://www.instagram.com/thehusbandscraving/
Instagram (Manila): https://www.instagram.com/thehusbandscraving_mnl/