I've always wondered what's the difference between regular Green Tea and Matcha. I know that they both come from tea leaves (not to mention the fact that they're both green) so how exactly are these two different?
Green Tea VS Matcha
I did a little bit of research and found out that while the regular green tea that we know (the one served in tea bags) is prepared by infusing tea leaves in hot water, matcha tea is made from ground, whole leaves. This means that when you're having matcha, you're actually consuming the powdered leaves, not just the water infusion.
The good news is that matcha in general is not only healthier, but it also tastes sweeter and less bitter than green tea. It's no wonder it has become a favorite in the Pinoy foodie scene in recent years – with matcha green tea quickly becoming a favorite flavor in ice creams, cakes, and of course in drinks.
Tsujiri Philippines
To those who are looking for matcha heaven, you'll find it at S Maison in the form of Tsujiri Philippines. Originating from Uji of Kyoto, Japan, Tsujiri brings over 155 years of green tea tradition to Manila, offering drinks, desserts, and other sweet matcha treats. Here are some of our favorites:
Tsujiri Sundae – Matcha: Php 285.00, Vanilla: Php 265.00
The Tsujiri Sundae is one of the prettiest items in the menu, so naturally this is the first one that we ordered. It comes in vanilla and matcha varieties, although it's not a surprise that the matcha flavor is what I preferred. One cup is made of layers of genmai (which is pretty much like rice crispies to me), red bean paste, and soft-serve ice cream. Perched on top of the layers are mocha balls and a flower-shaped rice cracker. It's too pretty to eat!
Quick tip: If you want their specialties from the menu, order the ones with "TSUJIRI" on it.
Choux Crème
Imagine matcha ice cream sandwiched between two choux cookies. Yum!
Uji Sunrise – Php 325.00
Pretty much like the Japanese version of the Korean bingsu. Shaved ice made is flavorful with matcha tea and milk. But there's more to this massive heap than meets the eye – digging deeper into the mountain of ice would reward you with red bean paste and more mochi balls. One order is good enough for two people, so be sure you have someone to share it with!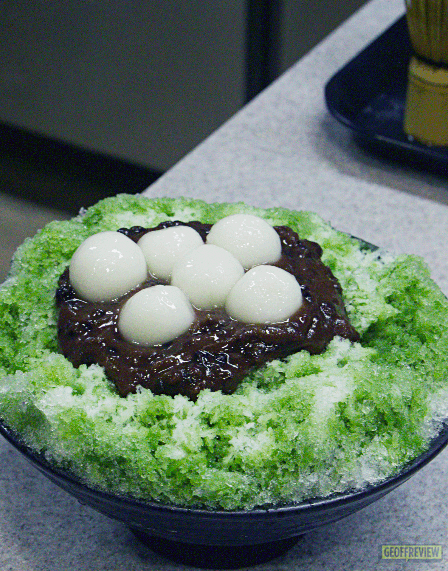 Matcha Lava Cake – Php 250.00
Instead of chocolate, this goodie has an oozing matcha center. But if you want the regular chocolate lava cake, Tsujiri has that too!
Of course, we didn't let the chance to try their drinks pass. After all the cold desserts that we've been having, a hot O-Matcha Cappucino only made sense.
O-Matcha Cappucino – Php 140.00
Unlike the other lattes and teas in the menu, the O-Matcha are served in ceramic bowls (which honestly left us confused at first on how to drink 'em up). One sip and I knew that this is what authentic matcha tea should taste like – smooth, earthy, and naturally sweet.
You won't see much stores in Manila who take matcha green tea as seriously as Tsujiri, so I say this is a must-try. If anything could be healthy and yummy at the same time, this should be it!
Tsujiri Philippines
S'Maison 2nd Floor
Pasay City, Philippines
816 4037