PAANO MAGLUTO NG SINIGANG NA BABOY: Sinigang is a local favorite in the Philippines, and is actually a pretty good contender for "Pambansang Pagkain" ("National dish"). It's essentially a soup or stew made of a variety of vegetables and meat, made sour usually by tamarind, mangoes, or calamansi.
Just like adobo, there seem to be endless versions of sinigang in the Philippines depending on who, and where this dish is prepared. There's Sinigang sa Sampaloc, Sinigang sa Gabi, there's even a Watermelon Sinigang which seem to be gaining popularity lately because of it's sweet and sour mix.
The versions also vary depending on the meat that you use. The most common is Pork Sinigang, but Filipinos also have Chicken Sinigang, Shrimp Sinigang, Fish Sinigang, and even Beef Sinigang. Pretty much similar to how adobo can also come in the form of different meats and even vegetables.
I've always wanted to learn how to make Sinigang, so I asked my friend Emon, "Paano Magluto ng Sinigang Na Baboy sa Gabi". He helped me out and made this Pork Sinigang With Gabi Recipe. I'm proud to say that it tastes really good! If you like your sinigang with thick broth with just a hint of spicy, then follow our Sinigang na Baboy Recipe below:
Sinigang na Baboy Ingredients:
½ Kilo Pork, sliced
2 Large Onions, sliced
Garlic, crushed
4 medium-sized tomatoes
1 piece medium-sized radish, sliced
2 medium-sized gabi, sliced
String beans, chopped
Kangkong leaves (water spinach)
4 pieces green chili, sliced in half
1 pack, 44g Knorr Sinigang Mix sa Gabi
Maggi Magic Sarap Seasoning Mix
Oil
Water
Salt
Paano Magluto Ng Sinigang Na Baboy Sa Gabi:
Lightly fry sliced pork in a large pot until light-brown in color.
Add onions and garlic, then sauté together with the pork. You may add Magic Sarap Seasoning Mix for flavor.
When onions and garlic start becoming brown, add water, radishes, and gabi.
Pour Knorr Sinigang sa Gabi Mix then let simmer.
Add string beans, tomatoes, and green chili.
You may sprinkle more Magic Sarap and salt to flavor.
When the broth's consistensy becoming thick, add the kangkong and lower heat.
Let simmer for a few minutes to cook the kangkong. Serve hot. Serves 3 people.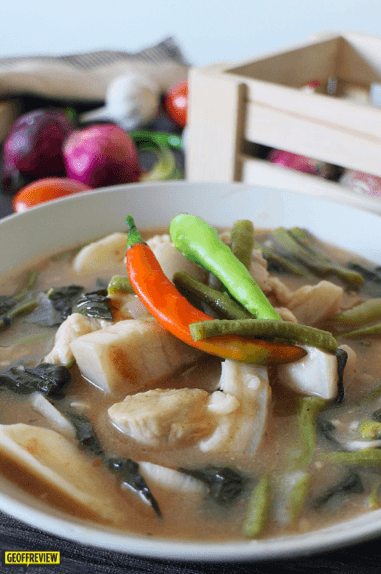 And that's our Pork Sinigang with Gabi Recipe. Thanks for reading PAANO MAGLUTO NG SINIGANG NA BABOY. If you have other recipes or suggestions, please share them with us in the comments section below!