Filipino Mukbang Vloggers are some of my favorite creators to watch on Youtube. It's just so fascinating to see how one or two people can gobble up loads of food in no time. I often watch Filipino Mukbang Youtubers while I'm also eating my lunch or dinner – making it feel like I'm actually having a meal with the Youtuber I'm watching. In some instances, I watch mukbang videos simply for the ASMR – relishing the oddly satisfying sounds that one makes while eating.
|| Related: Best Filipino Food Bloggers You Should Follow Today
Mukbang or "Meokbang" is a food trend thag originated in South Korea. It's essentially an eating show where the host consumes large quantities of food while interacting with their viewers online. Not long after, Mukbang has also become popular among content creators in the Philippines. In fact, I have also made several Mukbang Philippines videos in my own Youtube channel!
Best Filipino Mukbang Vloggers on Youtube Worth Subscribing To
Nowadays, many Filipino Youtubers make mukbang videos, but not all channels are fully dedicated to making mukbang types of content. Let me share with you in no particular order, the 17 best Filipino mukbang vloggers who deserve your Youtube subscription.
From making a simple mukbang video eating samyang spicy buldak topokki in 2019, Eric Tubiera has grown his Ewic Mukbang Youtube channel to over a hundred subscribers in just about a year. One noticeable element in Eric's videos is that he always starts with a prayer thanking God for his meal, before digging in.
I don't know how Gepoy does it, but he still manages to keep himself fit despite all that food that he has eaten. Gepoy is fun to watch because he's charming, making you feel like you;re just hangin out with a friend over a meal. Aside from mukbang videos, he also creates a lot of "day-in-the-life" videos with his girlfriend, Izza.
Kelly is no doubt one of the most subscribed mukbang Youtubers in the Philippines – with over 856K Youtube subscribers as of writing. What I love about Kelly is that she's always cheery and energetic in her videos. Just like Gepoy Tuason, she also managed to stay skinny despite all that eating! How???
Neill Richard's followers fondly call him "Boy Umay", which I think is quite ironic since judging from his videos, it appears that he never gets tired of eating food! Oh and he's a singer too!
What I like about Jammy Cruz' videos is that they are always well produced – the lighting is perfect, the setup is neat, and her makeup is on point! Jammy says that her channel is all about "food vibes" and positivity.
Unlike the previous entries in this list, Sino Si Richard is actually a family channel, whose content is normally about their family's lifestyle, food, and a bit of comedy too! This channel's appeal comes from the fact that we see their bond as a family while eating food.
Jayzar may be a foodie, but he doesn't go overboard with eating, making sure that all of the food he eats are measured to the last gram. He allocates a certain number of calories per day so he stays fit. He also writes about his travels on his blog – Hello Lipa.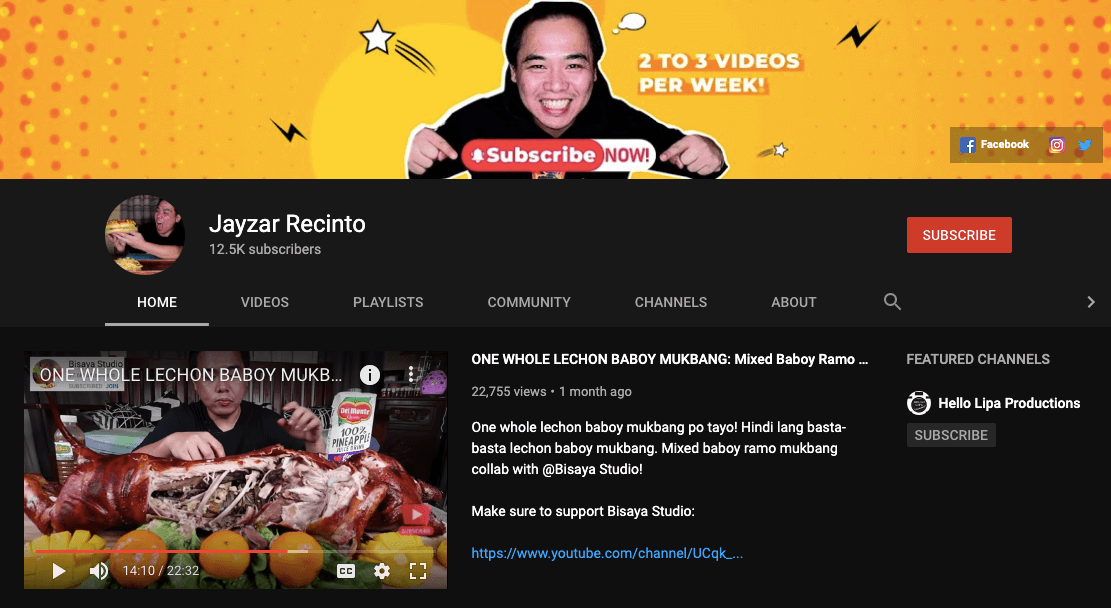 If you look for video suggestions on Youtube for Filipino Mukbang Vloggers, you'll see that Pinilakang Lakbang is one of the top results that you'll find. If I'm not mistaken, Pinilakang Lakbay is a travel channel, but it eventually gravitated towards mukbang content. Makes sense considering how much Filipinos love food!
9. King Lymhar (Filipino Mukbang Vlogger in Malaysia)
Lymhar is a Filipina living in Malaysia. On her vlog, she makes recipe videos and of course, lots of Mukbang Philippines content too! She used to make singing videos as well since she is a professional singer.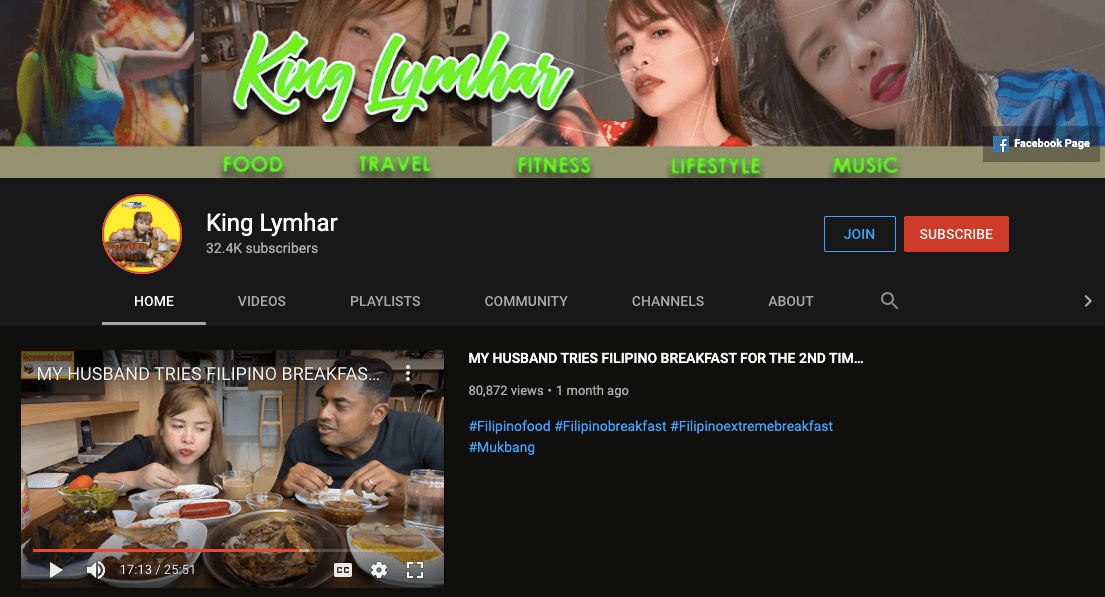 Just like Sino Si Richard, XanderLia is also a Filipino family Youtube channel! The channel initially posted videos that chronicle the day to day activities of the family, but it eventually evolved into a full mukbang channel.
I first noticed Carl when he posted his Chui Show videos on food groups on Facebook. Now he has already grown his vlog and Facebook page, ha ing thousands of followers on both platforms. Carl often visits restaurants and tries the dishes, then shares his thoughts about the food to his viewers.
True to its name, the Pambansang Kolokoy Youtube channel is full of funny antics! I have seen their husband and wife prank videos on Facebook and they are hilarious! I first thought that this was only a comedy channel but it turns out, they post a lot of mukbang content too!
This Youtube channel is run by – you guessed it – Bhen and Yuri. Most of their videos show both of them eating heaps of food together. They also post videos of Yuri where she showcases her talent by singing covers of other songs.
You remember Gepoy Tuason's girlfriend that he often features in his videos? Yep that's his girlfriend, Izza – and she has her own Youtube channel too! You can tell why Gepoy and Izza get along very well – because of their shared love of eating!
15. PM21AM Kitchen (Filipino Mukbang Vlogger in London)
I never really got to know their names but what I do know is that the PM21AM Kitchen Youtube channel is managed by Youtubers who call themselves "AM" and "PM". I can only guess that these are initials for their real names. They have met each other in London and despite the fact that they are in the UK, they still manage to keep their love for Filipino food as shown in their recipe and mukbang videos.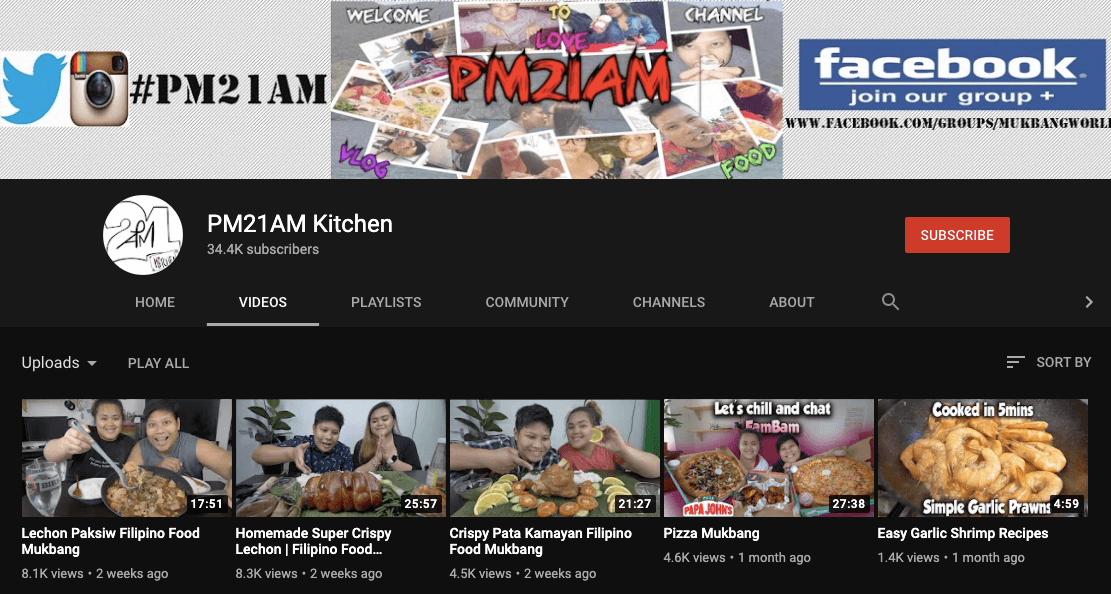 Becky is the wife and mommy behind the Hungry Cakes Youtube channel. You might think that her content is mostly about cakes, but she actually posts mukbang videos where she eats all types of food. Her most popular videos are the ASMR Mukbangs.
One look at Charm and you might think that she runs a beauty channel, but her content really is more about food! Aside from Mukbang videos, she also does food challenges (such as the infamous spicy noodle challenge) and cooking videos. In case you're wondering, she posts about beauty and fashion too!
Bonus Filipino Mukbang Vlogger: 18. Geoffreview
Aside from writing foodie stories and sharing them here in my blog, I'm actually one of the Filipino Mukbang Vloggers who loooove to make videos of me eating, then publish those on my Youtube channel. Eating delicious food is one of my simple joys (especially Filipino dishes) and I'm glad that I'm able to share that with my subscribers.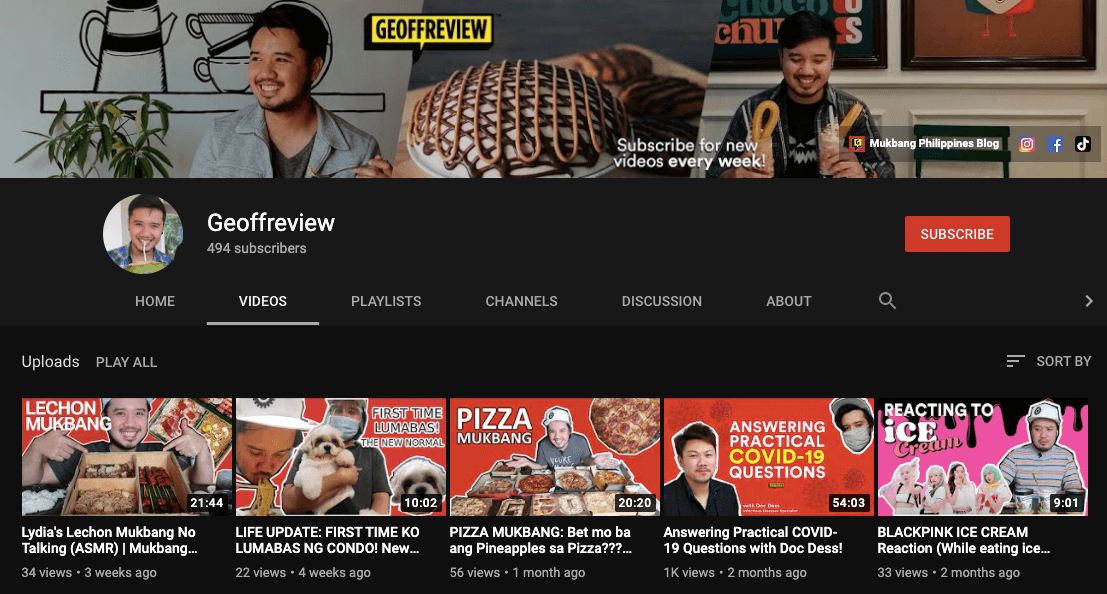 That being said, if you haven't subscribed to my Mukbang Philippines Youtube channel yet, please do! Click here to subscribe to my Youtube channel and I promise to share with you appetizing foodie and mukbang videos that make you drool!
See you on Youtube!