During the Lazada 7-7 Sale, a friend recommended to me that I check out Self-Heating Rice Meals for my vlog. I took a quick look and I realized why she thought I might find it interesting. As its name implies, self-heating rice meals can basically heat up and cook your food on its own – without the need for a microwave, stove, or electricity. All you need is some tap water, and the meal would heat-up and boil on its own!
The brand that she recommended to me was already out of stock on Lazada, so I ordered the one that's still readily available and with a decent amount of good reviews. The shop that I ordered from was called Kenkobei by Patagonia Foods Corp. They call their version, "Instant Heating Rice Meals" instead of "self-heating, which I think still makes sense because the product supposedly instantly heats up. I might be wrong but from what I researched, it appears that they are a Filipino company based in Binondo, Manila. Their website says that they're "Gawang Filipino" (Filipino-made) and that they're available online in Shopee and Lazada.
See my Youtube video below for my Self-Heating Rice Meals review, including the package unboxing and taste-test:
How to Cook Self-Heating Rice Meals Package + Review:
As you've seen from the video, I was fascinated by the whole process of how to prepare these self-heating rice meals. First, you pour the uncooked rice and the ulam onto their respective slots. Then on the bigger container, you pour a small amount of tap water, then gently add the self-heating pack, and voila – after a few seconds the water starts boiling on its own. Be sure to put the container with the uncooked rice and ulam on top before the self-heating pack expands.
After 8-10 minutes, you can already enjoy a nice warm meal. And yes – even the rice is already cooked in just 8-10 minutes!
|| Related: The 17 Best Filipino Food Bloggers You Should Follow Today
This made me wonder because how rice can be cooked within that short period of time. Whether on a rice cooker or on a pot, rice normally takes around 20 – 30 minutes to cook, depending on how much you're preparing. I took a look at the ingredients to find out what type of rice it is. To my surprise, even the rice itself has ingredients, including corn, starch, and some chemicals like Glyceride and Monocalcium Phosphate. I can only assume that this is some type of modified rice, and not the naturally grown rice we buy from farmers.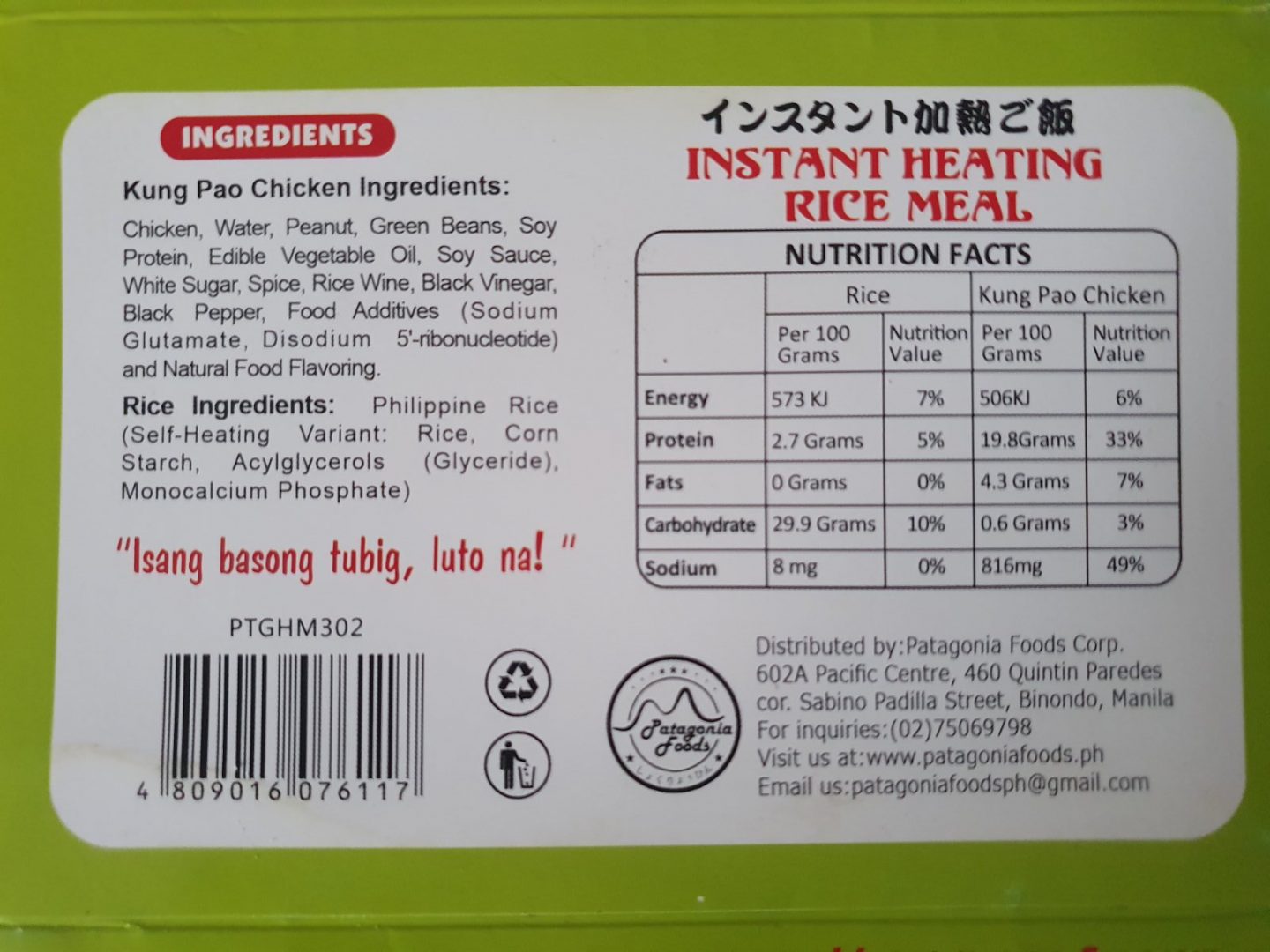 In terms of the taste and quality of food, I didn't particularly enjoy eating any of the meals. The Chicken Curry, Kung Pao, and Sauteed Garlic Pork variants were unbearable for me, that I decided not to finish the food after a few spoonfuls. The Braised Beef, however, tasted really good compared to the rest, reminding me of those flavored canned tuna that I love.
Overall, I think the concept of a self-heating meal package is very useful. I can imagine this to be particularly convenient when you're camping, or even as relief goods to those who were struck by disaster. But considering the taste, I don't think I would buy these again unless there's a pressing need for me to have self-heating rice meals. I'd stick to my usual rice, thank you!