Charaptor Review: 
One of our readers recommended in our earlier
Buffets Below 500
post, that we may want to include in our "Buffet List", this unlimited-ihaw restaurant in Makati called Charaptor Charcoal Barbecue Bar. Being the carnivore that I am, I already started drooling by the mention of "unlimited-ihaw", so the rest of the buffet restaurants we were planning to visit were rescheduled to make way for this char-grill heaven.
Located at Kamagong corner Aranga Streets at Makati City, it's a bit challenging to get to Charaptor if it's your first visit because you'll need to have a good sense of direction (or at least a reliable GPS) to maneuver through the small streets of this area of Makati. Our Uber ride had some slight trouble locating the place, good thing Charaptor's huge sign helped in identifying the location. From the outside, you can already tell that this buffet restaurant means business, and so I started rolling my sleeves up for some serious meaty meal.
Charaptor Review
As you enter, you will be greeted by several rows of tables with exhaust tubes hanging over each one to suck out the smoke from the grill. It looks spacious and decent enough, although during my whole stay I was wishing that there was airconditioning, because the heat was terrible partly because of the grill itself.
The ritual is pretty simple. You head to the buffet area at the farthest end of the room, get as much raw meat as your plate permits, bring 'em over to your table, and start grilling! Easy peasy!
My eyes widened at the variety of meats to choose from – skewered balls, marinated beef, pork, isaw, chicken wings, hotdogs, luncheon meat, and even a few seafood and shrimps! There are also some veggies that you can have as side dishes. The only downside is that the meats aren't labelled, so it's tough to figure out what kind of meat you're having.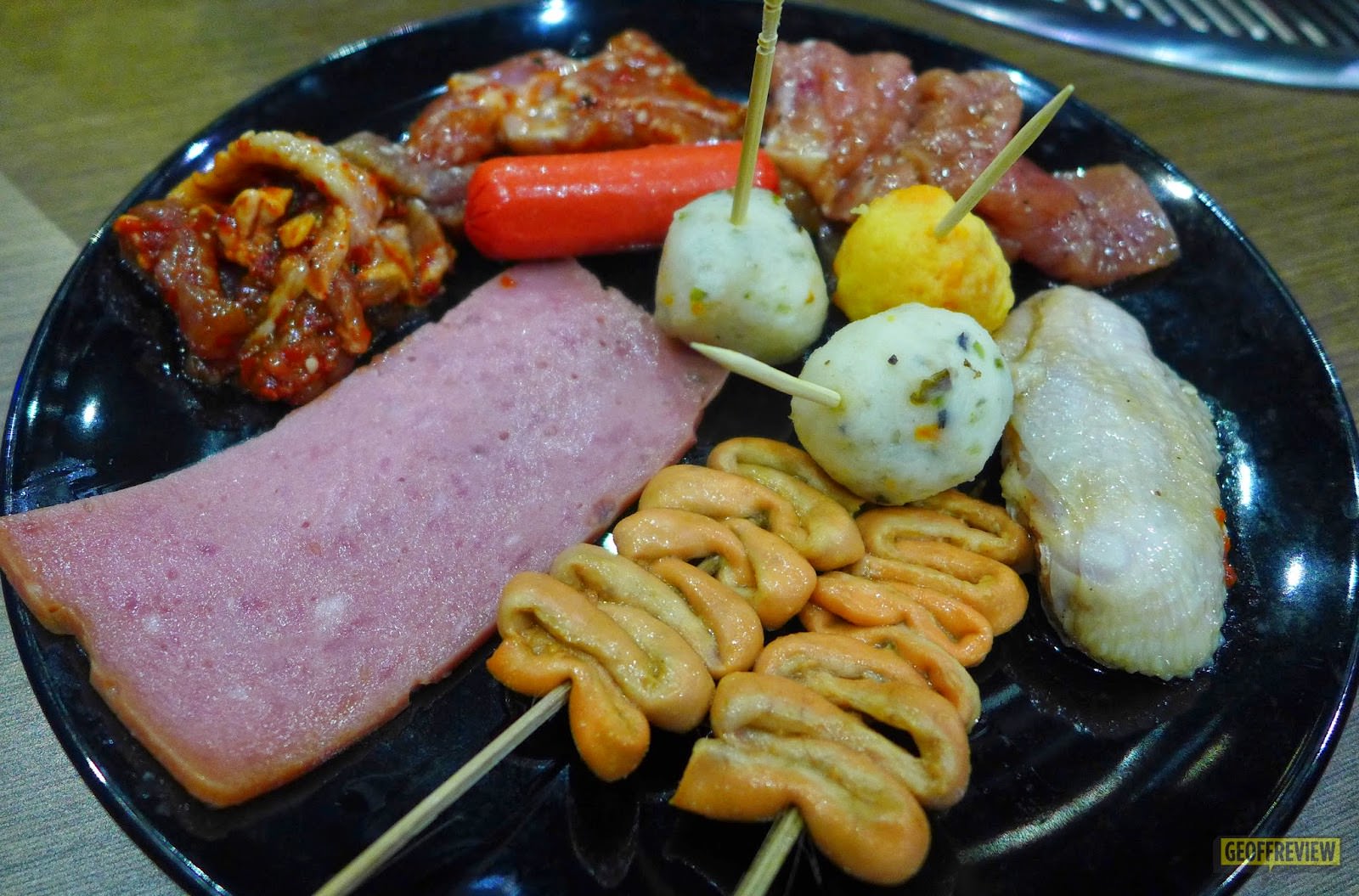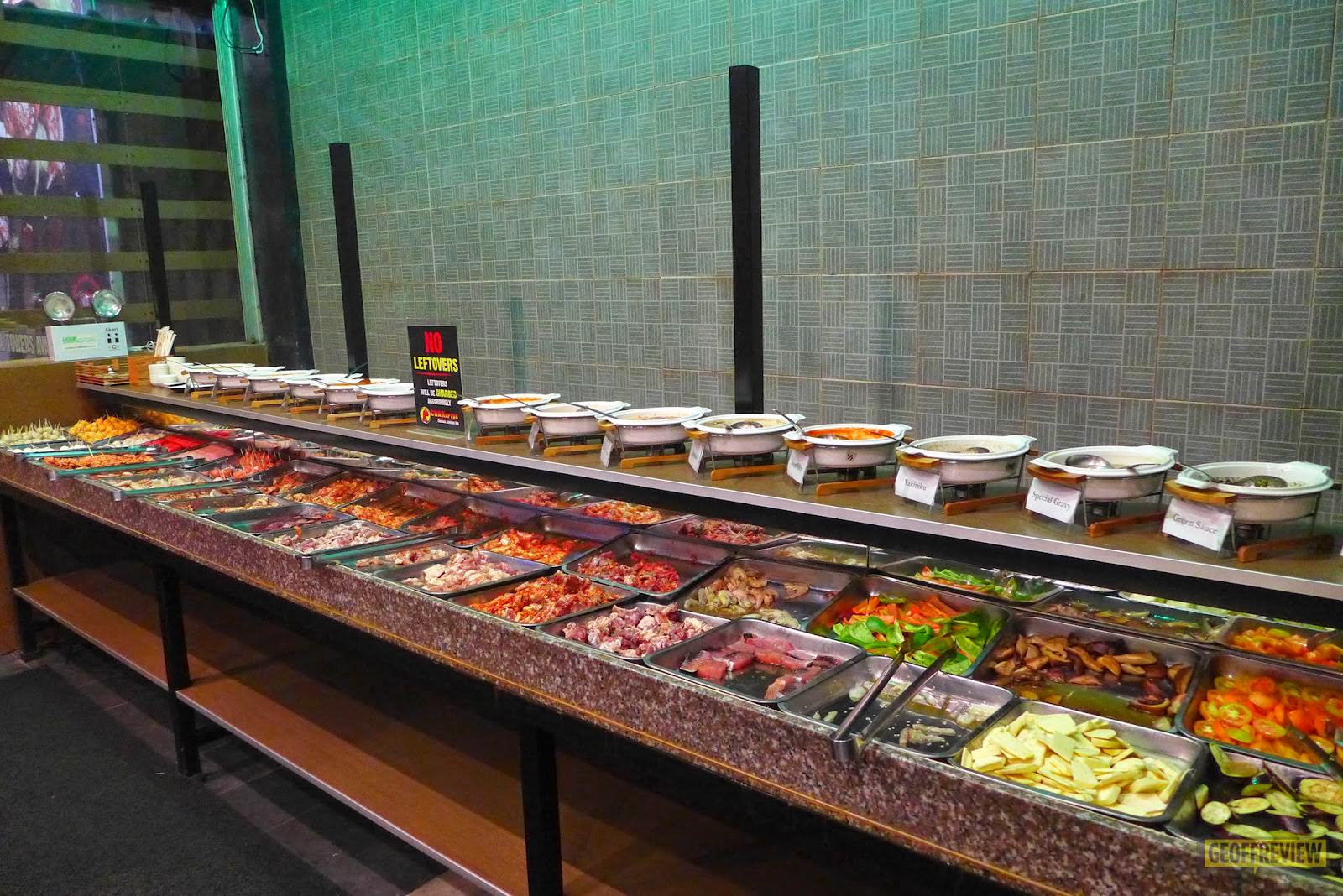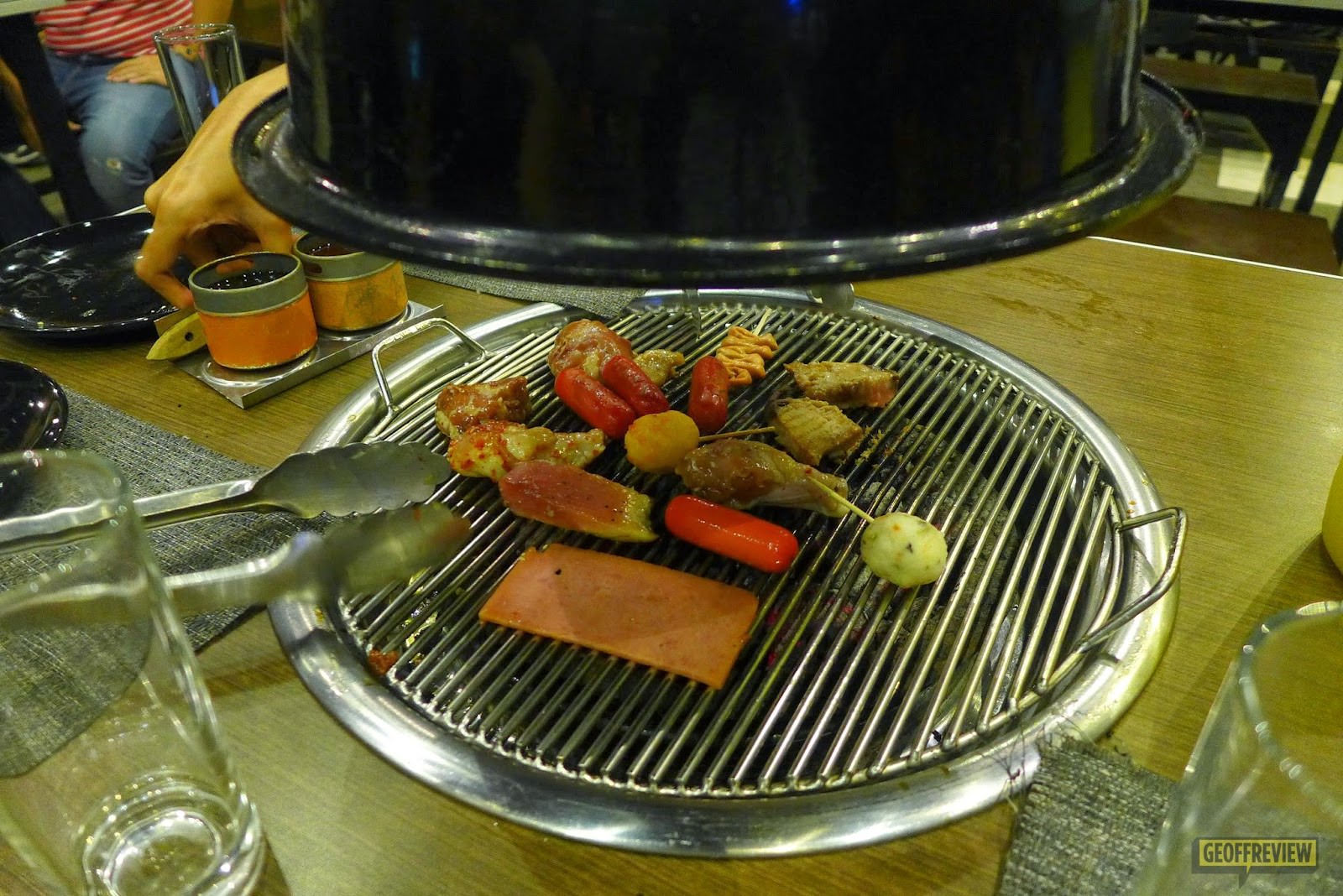 Even though most of the meats are already marinated, you can still make your food more flavorful by brushing it with teriyaki and/or barbecue sauce as they sizzle on the grill. This is my favorite part because I can put on as much sauce as I want, and the flavor seeps in to the meat as they are getting cooked nicely over the burning charcoal.
Another highlight of Charaptor is their wide selection of sauces to go with your meaty delights. They have the more familiar ones like Toyomansi, Teriyaki Sauce, and Ssamjang, as well as the ones I am curious about like the Green Sauce, Lemon Mint, and Tape Nade. I would have wanted to be adventurous and try everything, but since it's my first time, I thought that I'd play it safe first and stick to my usual favorite dips in grills – Sesame Oil paired with Ssamjang. And it was good! The meat itself is already tasty enough from the sauce we brushed it with as we were grilling, but dipping them in more sauces afterwards takes your food to a higher level of delicious, it' already sinful.
What makes the experience even better is that dining in at Charaptor already comes with bottomless juice! It's perfect! I tend to have a lot of (bottomless) drinks in buffets to wash down the riot of different flavors in my mouth, so I usually had to pay extra for the drinks. This is why it was such a treat when I learned that we won't have to pay additional for the refreshments. What's more, it's bottomless! You can also have some good cold beer to go with your barbecue by buying them separately.
Our stay wasn't enough for me to try all the items in the buffet and all their specialty sauces. Thanks for reading our Charaptor Review. I can't wait to get back!
CHARAPTOR REVIEW
CHARAPTOR PROMO
Address: Kamagong corner Aranga Streets at Makati City
Price:Lunch:  Php 290.00 / head
Open from 10am – 2pm on Tuesdays to Sundays
Dinner: Php 390.00 / head
Open from 6pm – 11pm on Sundays to Thursdays, and 5pm – 12mn on Fridays to Saturdays