Artsy Cafe Review:
Maginhawa
Street at Teacher's village never fails to offer me something new every time I visit. New restaurants with new concepts seem to be popping up all over Teacher's Village all the time, that it seems I would have to go on a food trip every weekend to be able to catch up!
Artsy Café is one of those relatively new 
Maginhawa
restaurants I've been hearing a lot about lately, and itching to finally visit on a weekend. You won't miss it when you're driving along the famed street – with an inviting exterior that seems to suggest that you'll be in for a nice home-cooked meal ahead of you. The inside also feels like an odd mix of 
Banapple's
homey ambiance and 
Milky & Sunny's
 blue and white color motif.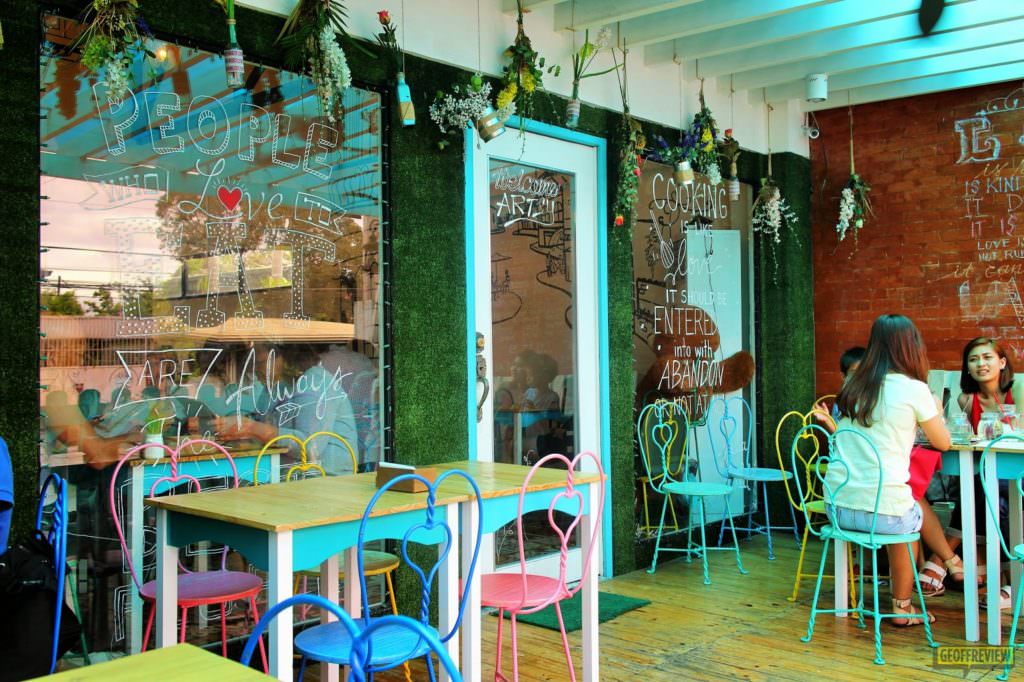 We can tell that the place is popular with the fact that we went there at 2pm yet the place is still full of customers who, just like us, are having their late meals. We asked for their best-sellers for lunch and these are what were recommended to us:
Lengua – Php 180.00
Artsy Café's Lengua already comes with rice and buttered veggies so this was actually one of our more "sulit" options. It was pretty good, just brush off the thought of an animal's taste buds rubbing against your own.
It reminds me of the Lengua dish we had at 
Dalcielo
in Laguna, only that one had thicker sauce. However, what it lacked in the sauce's consistency, it made up for with toppings of garlic and chives.
Herb and Spice (Bangus) Belly – Php 260.00
The Herb and Spice Belly is one of the four Bangus specials offered by Artsy Café. These are served fresh from Bonuan and are already good enough for sharing with a friend. This dish would definitely justify the "Artsy" part in the restaurant's name. It was beautifully garnished with cilantro leaves on top of bright red bell peppers, with bits of garlic and chili scattered all over the bangus belly. The banana leaf element not only completes the artwork, but it also adds to the impression of freshness of the bangus.
In terms of taste, it's reminiscent of Thai and Vietnamese cuisine, with all the spices giving hints of sour, salty, and spicy in each bite. It may take some time to get used to the flavor, especially with the patis aftertaste.
Salisbury Steak – Php 180.00
This thick chunk of Salisbury Steak comes with a choice of mashed potato or rice. It tastes just like how you would expect a Salisbury steak would, but maybe I just raised my expectation a bit too much when I tried to look for something creative in the flavor or even just in the presentation.
Drinks: Lemon Basil – Php 70.00 and Mint Calamansi – Php 50.00
You have to try these two specialty drinks, which had actual basil and mint leaves swimming with the juice inside the mason jar. What the Salisbury Steak lacked in charm, was redeemed by the Lemon Basil and Mint Calamansi refreshers.  It's really simple if you think about it, but the combinations worked so well that I wished I could have them bottomless.
Overall, it was a satisfying lunch. I'd definitely put Artsy Cafe in my list of new must-visit restaurants along Maginhawa, but it's the type of establishment that's great on the first visit, but probably won't be on top of mind on my next trip. If ever I do, maybe it should be for the drinks – I guess I should experience more the part that makes this resto a "café" in the first place.
Artsy Café
36 Maginhawa St., U.P. Village
Quezon City, Philippines
(02) 434 9487