22 Filipino Food TikTokers (TikTok Influencers) You Should Follow Today: TikTok has already evolved greatly these past years. It has now become a multi-interest platform, with various niches such as comedy, travel, arts, food, and even education. In my case, most of the content in my "For Your Page" (FYP), are about food – recipes, restaurant reviews, mukbang, among other foodie-related content! It makes sense because I am also a foodie myself!
I like seeing recipes on TikTok because they are very straightforward, and without unnecessary fancy edits. The fact that TikTok videos are short-form also helps because I can get all the information that I need, in a minute or less!
Filipino Food TikTokers (TikTok Influencers) You Should Follow Today
As someone who diligently watches (and uploads) food content in TikTok every day, I have identified who I think are the best foodie creators on the platform. In no particular order, here are 22 Filipino Food TikTokers (TikTok Influencers) you should follow today.
PS. Before I start my list, I'd like to invite you to also check out my food videos. You can find me as @pinoyfoodie on TikTok – where I post recipes, rate my takeouts, and share my food recommendations to my followers. Check out my content and follow me if you like what you see! 😉
Filipino Food TikToker: Geoffreview @PinoyFoodie
Click on the items in the list of Filipino Food TikTokers below to jump to their descriptions
|| Related: The 17 Best Filipino Food Bloggers You Should Follow Today
Bok creates recipes and posts food reviews regularly – all while juggling his schedule as a law student! He also does a series where he taste-tests different kinds of takeout food and shares his recommendations with his followers. Personally, I think he's one of the top Filipino food influencers on TikTok right now!
I instantly fell in love with the aesthetic of Shine Dee's videos the first time I saw them. She can make simple recipes look so chic and fancy that you'd really watch until the end! I like how lovely her dishes are too, sometimes they're too pretty to eat!
Ninong Ry has recreated his long-form Youtube videos into short-form videos on TikTok, and I'm here for it! He still has kept that incredibly entertaining straightforward humor that everyone loves!
Chef Hazel is a sous chef, but she's known more as "Cooking Ina' on TikTok. What I love the most about her is her energy in her videos! Aside from recipes, she also posts dancing, lipsyncing, and comedy videos too!
When I watch Connch Cruz' videos, I always think "kitchen goals"! She's one of the top Filpino food TikTokers right now in terms of following. Some of her most popular content is her restocking videos, which get millions of views!
Franzie can be your go-to TikTok food influencer when you're looking for unique, yet easy to prepare recipes. Her videos normally include step-by-step instructions on how to prepare simple dishes, accompanied by trending music in the background.
Mark, aka Mr. Batts, is ranked as one of the top TikTok food influencers in the Philippines in 2021. It makes sense because his recipes are interesting and he also shares his most recent foodie finds. He does voiceover videos that normally end with his catchphrase, "yum, sarap!"
Just like Mr. Batts, Kuya Bam is also ranked as one of the top Tiktok Food Creators in the Philippines in 2021. You can tell that Kuya Bam really knows his way around the kitchen, with the way he handles food and equipment when making his recipe videos.
Alexis Deocaris of ForkSpoonManila is one of the OG food influencers in the Philippines. I've been following ForkSpoonManila on Instagram and Facebook, even way before he became popular in TikTok. I like watching his videos because the recipes are truly mouth-watering!
Mark Tan of Eatsplorations is one of the food influencers that I've been following for many years. I used to follow Eatsplorations on Instagram, and now he shares his love for food on TikTok too! Expect must-try recipes and unique food discoveries when you visit Eatsplorations!
One of the most notable qualities of Mama Yum's TikTok videos, is her lovely voice, when she describes her recipes. The audio of her videos is a treat just as much as the visuals! You'll see a lot of Japanese recipes in her feed, but there's no shortage of Filipino food too!
TikTok has ranked Boss Edlyn as one of the top food influencers in the Platform here in the Philippines. I like her videos, especially because she voices over with her lovely Batangueno accent. She can make simple recipes really entertaining to watch!
As you may have guessed, this TikTok account is managed by a couple – Kath and Gene. Interestingly though, Gene appears to be the "voice" of the account in many of their videos. Collectively, they already have over 4 million Likes on TikTok as of writing, which is probably why TikTok also ranked them as a top Food Tiktokers in the Philippines for 2021.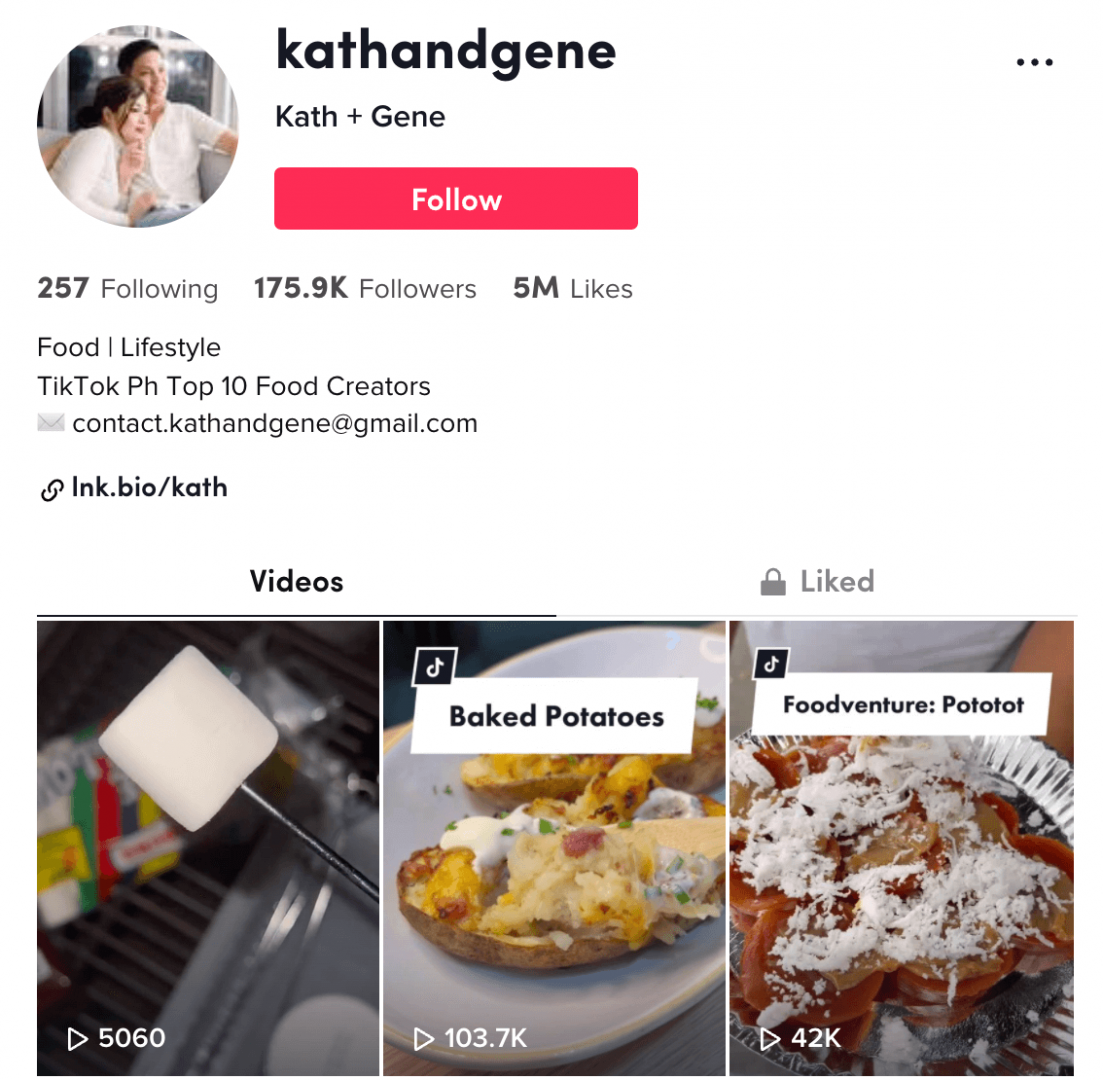 Amiable is a company nurse and a rescue officer. What I like about the content of Amiable, is that her videos often give us a glimpse of the comfortable life in Cebu. Some of her recipe videos are shot at the beach, and sometimes she even gathers the ingredients herself from their backyard.
Tiffany posts quick videos of easy-to-make recipes, which are mostly beverages and desserts. There's always a little bit of flair in her content, especially with the way she times her shots with the background music. She also has a #EatsOnScreen series where she creates recipes inspired by her favorite films!
Tin is a hotel cook who started her TikTok account in 2019. She makes use of her culinary expertise in creating recipe videos that are always on-trend. Aside from recipes, she also shares videos of her food trips, dance challenges, and OOTDs since she's also a plus-size model.
17. Johnmark Santos @.johnmark_
As of writing, JM is still a college student majoring in Food and Service Management. He loves cooking in general, but he excels the most in baking, which is why most of his content shows him customizing large cakes and cupcakes. He also managed to turn this into an actual cake business already, which he calls Pastry Suavis.
Whenever I see Julie's posts, I always think of how much I miss home-cooked meals! Her recipes will remind you of your mom's cooking, with dishes like Ginataang Kalabasa, Sotanghon Guisado, and Pancit Canton. She's also fond of making "kakanin" or sticky rice recipes like Sapin-Sapin, Mochi, and Buchi.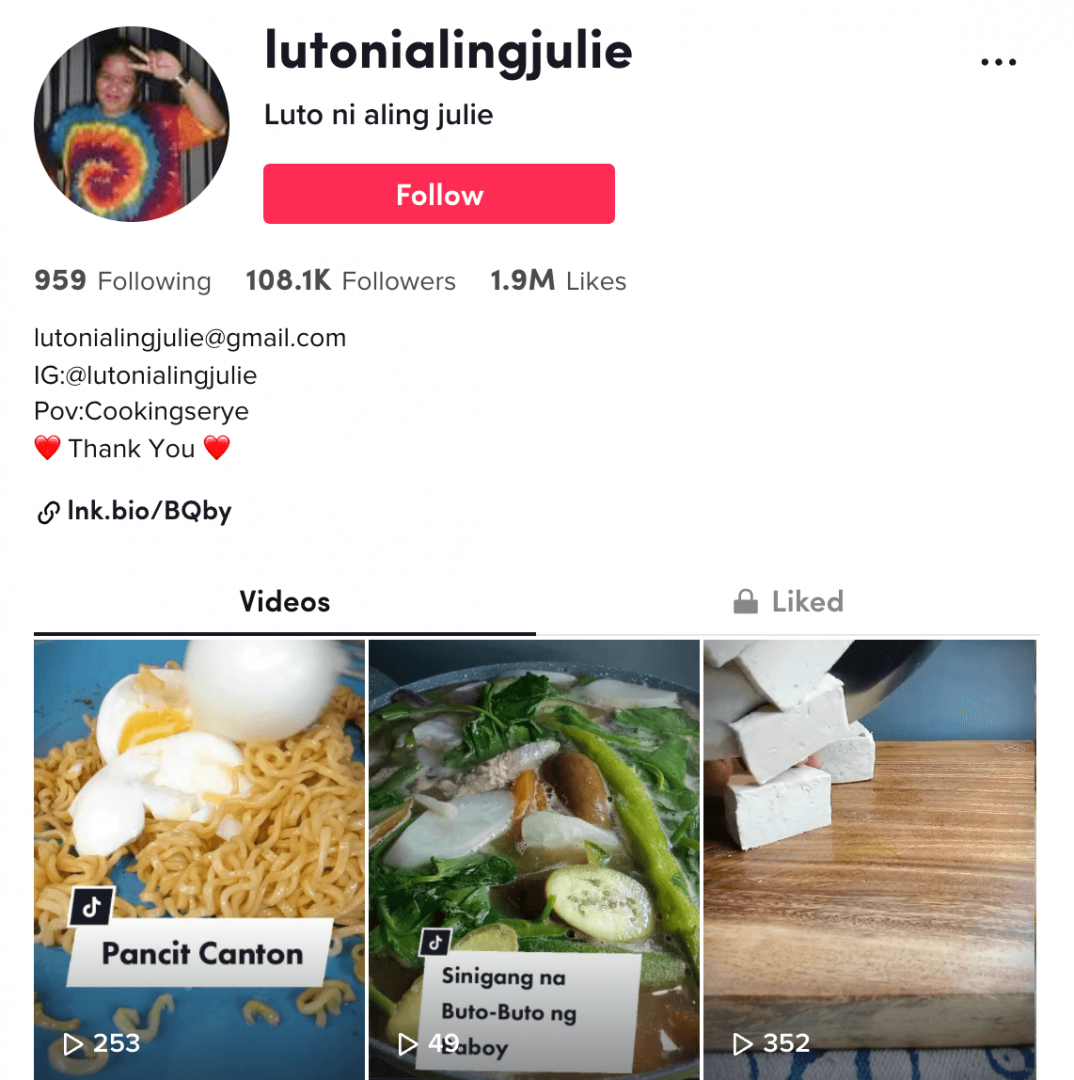 You can tell that Iro is a home chef and baker, from the expertise that she shows in her recipe videos. Not only are the videos well-shot and edited, but the appearance of the food that she makes also looks restaurant-quality!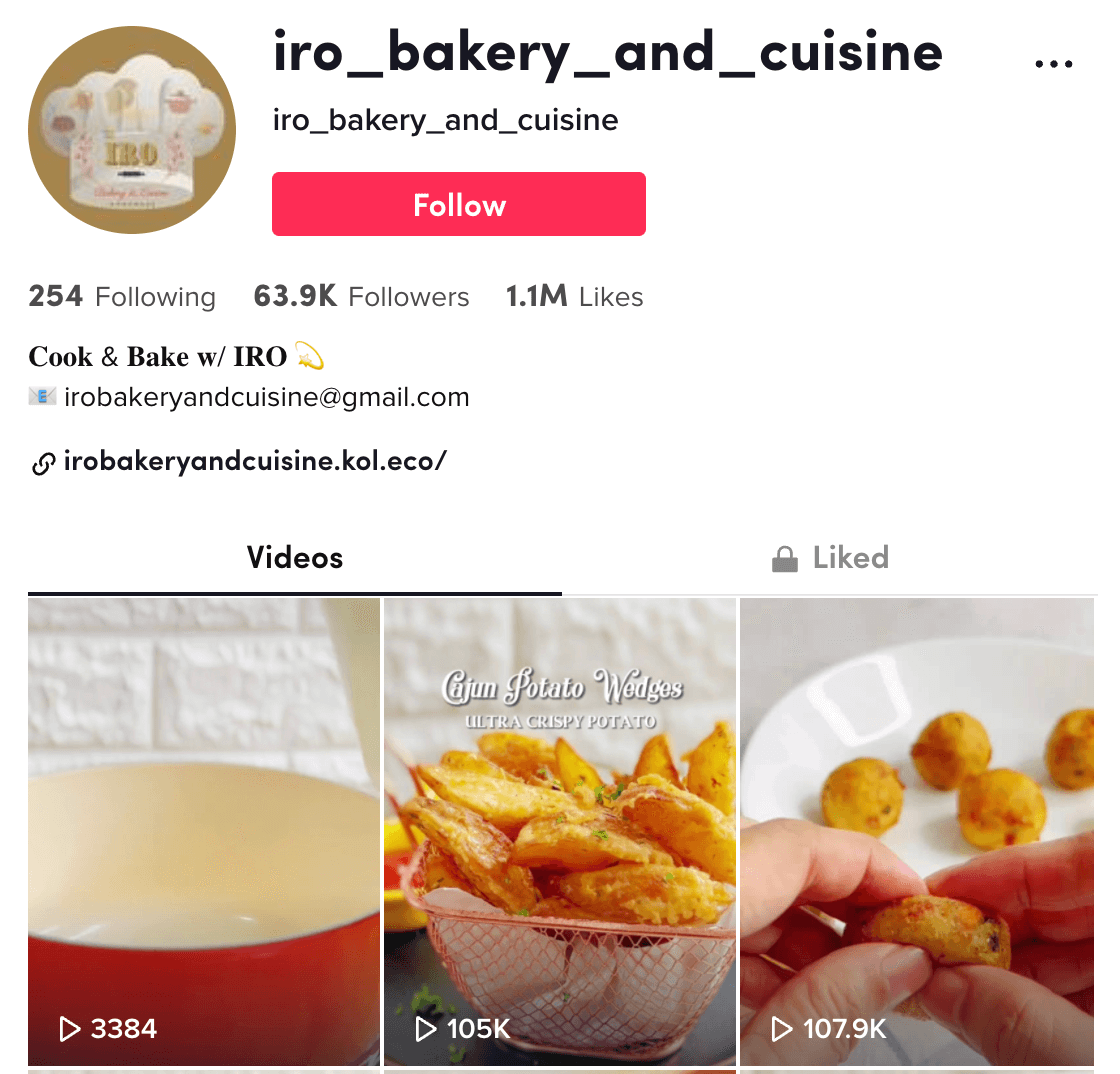 Ella and Febbie is the couple behind the JustDoItFellas TikTok account. The recipes that they share are mostly the food that they also eat at home, when they started living together. What I love about their videos is that you can truly feel their personality through their voiceovers and appearances.
Mark has built a huge foodie following, not just on TikTok, but on Instagram as well! Whether it's through his videos or his expertly shot photos, his food shots would make you crave! Makes me want to order takeout food every time!
Healthy Foodie considers themselves a "flexitarian". I'm not sure if I got it right, but from what I know, it means they eat wholesome and nutritious food, while occasionally enjoying animal products as well. They're also big on Youtube, where they have over 120K subscribers as of writing!
Did I miss anyone? Do you have other Filipino Food TikTokers or foodie influencers that you would like to add to the list? Let us know in the comments below!