Banana Leaf SM Aura Review: Last December I went on this spontaneous solo trip to Singapore, with an itinerary so messed-up, I actually spent half of my first day deciding what to do first. My list actually just consisted of several tourist attractions, without really having a plan on which ones to visit. One thing that I know for sure is that food-tripping is a priority.
Aside from the satay and laksa, I made sure to visit popular restaurants, with the one on top of my list being National Kitchen by Violet Oon.
It was in National Kitchen that I first had a taste of Beef Rendang, and ever since I've been craving for it. I even went out of my way in my Australia trip last month, just to have another taste of this Indonesian (or is it Malaysian?) delicacy.
You can just imagine my joy when I discovered that Banana Leaf at SM Aura also has beef rendang in their menu! On the same day of my discovery, I asked (read: forced), my officemates to accompany me and have lunch at Banana Leaf instead.
Banana Leaf SM Aura Review
The Banana Leaf branch of SM Aura is too cramped, to the point that you'll be touching the backs of those at the table behind you when you're seated. But I didn't mind because my rendang craving clouded my judgement. Little did I know that this is already a warning sign for the horrible experience we'll have in this resto.
My workmates and I ordered the Beef Rendang and Barbecue Roasted Baby Back Ribs. One of us ordered separately for the Penang Char Kway Teow and two orders of Roti. After a long wait, the rendang arrived. One look at it and I know that this order is going to forever ruin rendang for me.
Beef Rendang – Php 328.00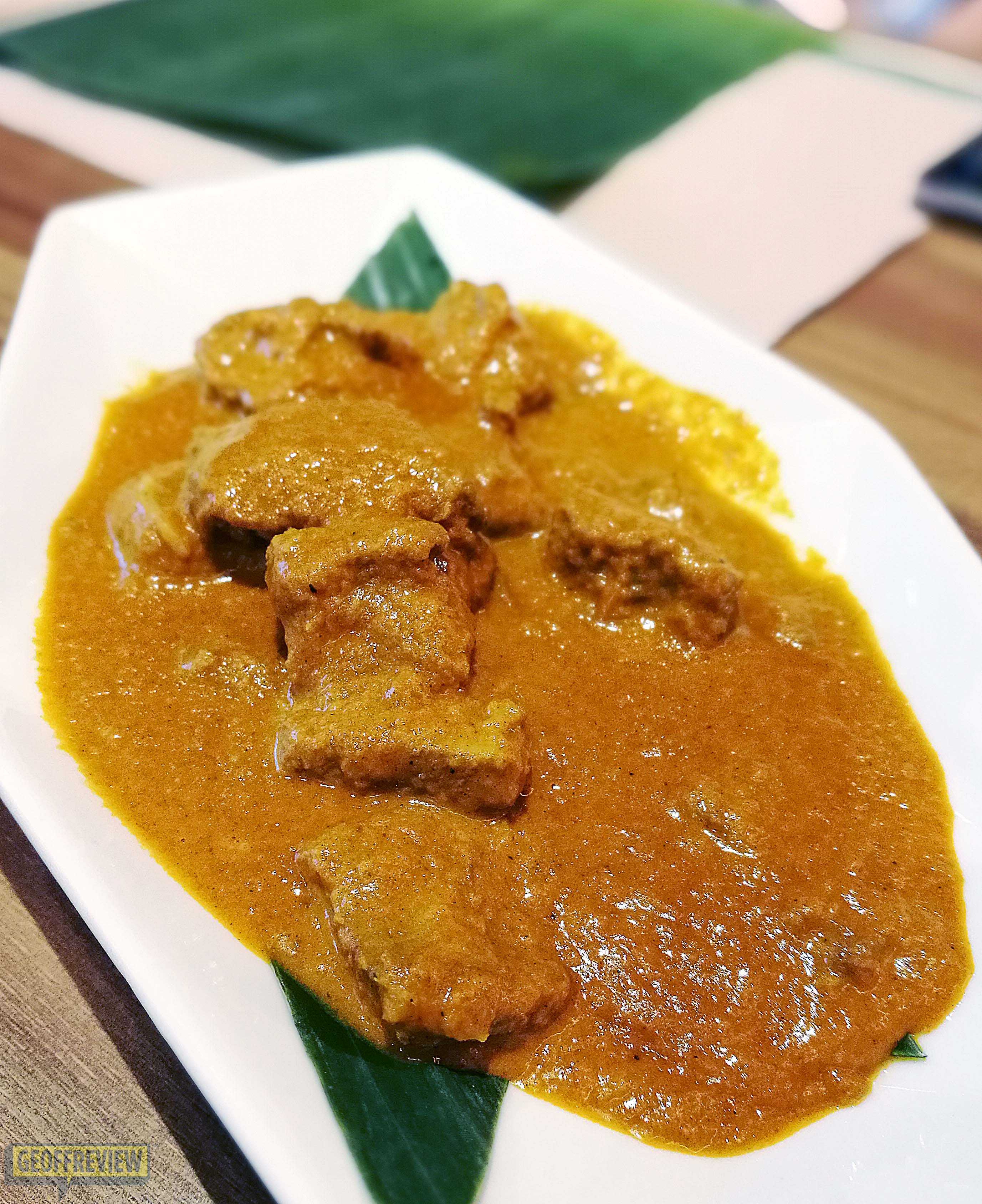 As you can see, this serving only has a meager amount of beef in it that it's an injustice to pay over 300 bucks. I didn't complain because it's the first time I'm eating at Banana Leaf but knowing that this isn't enough for four people, I asked for another order. Come to think of it, I almost spent over Php 600 for Rendang. Definitely not good value for money.
The worst part is the rendang wasn't even good. It lacked that spicy kick and I couldn't find that delightful peanut and coconut taste I have been craving for. This convinced me to cancel my extra order. Not worth the Php 600, I tell you.
Barbecue Roasted Whole Baby Back Ribs – Php 488.00
We ordered the whole baby back ribs because we knew the Beef Rendang won't be enough for everyone. We all had the impression that it was going to be a large serving given that the name says it's a "whole" baby back ribs. I don't know from what animal they got these ribs from, but that doesn't look like a whole rack to me.
Sadly, the ribs weren't that good either. The barbecue sauce wasn't thick nor flavorful. It also wasn't served warm so it felt like eating leftover food back then.
Banana Leaf SM Aura Review: I'm Never Going Back to This Branch
Despite our disappointment with the food and the prices, we didn't complain (yet). It's only our first time to eat at Banana Leaf anyways. We just took mental notes not to eat here again. However, things started heating-up when we were already finished with the rendang and ribs, but the roti and Char Kway Teow still wasn't served to us. We're nearing an hour and lunch break is almost over, yet half of our orders were still not served. We reminded the waitresses of our orders several times and each time we couldn't get a clear answer. When they finally served, they gave us only one order of roti.
Pissed off by this time (the fact that we had to ask for water four times before they served us didn't help), I went to the kitchen area to speak with the guy who looked like the manager. I explained that waiting time is unacceptable already, and the fact that the order was incomplete made it even worse.
Apparently, my friend's order wasn't punched-in so it wasn't queued in the kitchen. By then, they were asking us to patiently wait some more for the delayed food. No way that was gonna happen.
We just asked to cancel the pending order and pay for the rest. We wanted to leave that horrible resto ASAP. They insisted for us to wait some more because the pending orders are almost done. However, we didn't appreciate the fact that they didn't give us a heads-up that the orders will be delayed. In the end, the pending orders were cancelled, and I asked for the bill.
I gave money enough to cover everything we ate. To be fair, the manager offered to give us the rendang for free. I was going to decline his offer since I don't want to owe a restaurant with sh*tty service anything. But realizing that the rendang wasn't good anyways, I accepted the offer.
What would have been a lunch to satisfy my craving ended up leaving us in a bad mood. We accompanied our friend who didn't get his orders to different restaurant where he had his lunch instead. What a waste of time.
Oh well, even if the service wasn't as bad, I wouldn't be coming back to Banana Leaf anytime soon because the food wasn't good anyways. Well, judging from the meager meal that we had at least.