I'm lucky that I'm surrounded by people who love food as much as I do because there's always a reason to go to buffets. First payday of the month? "Let's got to a buffet!" Second payday of the month? "Yay buffet!" Been to the gym three days in a row? "Let's celebrate by pigging-out in a buffet!"
Last year, I even went buffet-hopping in an effort to find
Affordable Buffets below Php 500
(you can check out the list
here
).
My most recent buffet discovery was Seasons Restaurant at Manila Pavilion Hotel. It was the fist time that I've been to Manila Pavilion because I don't hang out that often by the Manila area. However, if it's a call to eat my heart out, I'd gladly brave the rains and traffic to get there. Manila Pavilion's strategic location is within minutes to some of Manila's famous historical tourist spots like Luneta Park, the National Museum, and the Manila Bay. A perfect place to stay if you'd like to show a foreign guest around.
The food at Seasons live up to the standards of Manila Pavilion. For the coming holidays, they'll be treating guests to their "12 Holiday Specials at the Seasons", offering family and friends a variety of mouth-watering dishes to enjoy. I've tried some of these specialties, and they're pretty good! Here are dishes that we had, specially prepared by Manila Pavilion Hotel's Executive Chef, Giovanni Sias:
Appetizers
American Shrimp Cocktail
Fresh shrimps are served in cocktail glasses with sweet sauce. Squeezing the lemon gives it a zesty kick too – just enough to tickle your appetite.
Baked Oyster Rockefeller
I'm not hard to please when it comes to baked oysters and fortunately, Seasons' version did not disappoint. I wish more oysters were served to me though because I can gobble up those goodies in no time!
Deep-Fried Kare-Kare Ravioli
I'm all for innovative recipes, and the Deep-Fried Kare-Kare Ravioli would be a great example. Thin pasta dough is filled with flavorful peanut sauce and braised beef – kinda reminds me of our well-loved empanada.
Soup
Laksa Singaporean Spicy Noodle Soup
Laksa is one of my favorite Singaporean dishes because I love spicy curry. Seasons' version though wasn't as spicy as the usual laksa that I know – which makes it more tolerable even for those who doesn't like spicy food.
Main Courses
Homemade Fettuccini with Lamb Ragu
What's special about the noodle dishes at Seasons is that the noodles are homemade, so you can tell that extra love and effort were put into your dish. The homemade fettuccine served to us, was a but thicker than the usual fettuccine, which is why I didn't need a big serving to satisfy my appetite. I wished though that I had more of that lamb ragu.
Roasted Beef Rib Eye with Red Wine Sauce
The moment the roasted rib eye came into the room, my eyes widened with anticipation! The meat was pinkish and tender, and the red wine sauce didn't overpower the beef's flavor. If I were to pick a favorite, this would be it!
Salmon and Potato Cake over Sautéed Spinach and Aioli Sauce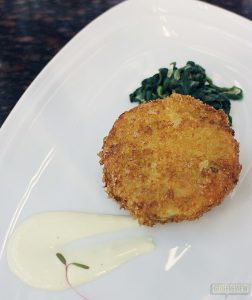 Despite being full, I easily devoured this dish given that salmon and potato is a great comfort food combo. The crispy crusts is filled with warm salmon and potato which comes even better with the aioli sauce.
Manila Pavilion's pastry chef, Chef Domenic, also treated us to a variety of colorful desserts to finish off the meal. My personal favorite, was the bite-sized Brazo de Mercedes, and I can tell that my fellow foodies loved it too!
This December Seasons Restaurant by Manila Pavilion Hotel celebrates the holidays with a price of only Php 950.00 net per adult, and Php 475.00 net for kids. For reservations, you may call the Seasons Restaurant at 526-1212 loc. 2318
Seasons Restaurant by Manila Pavilion Hotel
United Nations Ave., cor Ma. Orosa St., Manila, Philippines

Rating: 3/5