Have you ever had one of those times when you're watching a movie at home, and you keep on messing with the volume buttons, because you can't seem to find the perfect audio fit for the movie? At one moment, the volume's too loud, but then in a different scene, you can't even hear the dialogue!
Happened to me a lot of times. This may be because of the quality of the material you're watching, but the kind of speakers that you have also contributes to this "Volume-up, volume-down" dilemma. It's even more frustrating when the quality of the audio output doesn't give justice to the movie!
I recently got this huuuge Smart TV, and after several occasions (more of "attempts" actually) of trying to watch films on it, I realized that I needed some good speakers if I wanted to have a better movie experience at home.
I'm sure a lot of people would agree with me when I say that JBL is one of the most trusted brands when it comes to speakers and headphones, so it's great news to know that #JBLPH opened another concept store here in the Philippines – this time, at Festival Mall. It opened its doors last December 16, 2016, which also marks Beyond Innovations Inc.'s 16th year in the business. Needless to say, this concept store feature's award-winning products from harmon/kardon™, JBL™, and AKG™! Check 'em out below:
JBL Clip 2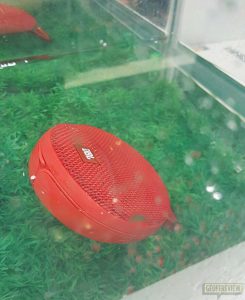 At Php 3,099, you can now have your won background music when it rains, with one of these portable waterproof Bluetooth speakers. Can't believe it's still playing even when submerged on water!
JBL Charge 3
Rain or Shine, the JBL Charge 3 got you covered. Aside from being waterproof, one of its highlights is its 6,000 mAh lithium-ion battery that can run for up to 12 hours! The best part is that you can charge your other devices with it too! It's like a waterproof speakers and powerbank in one.
harman/kardon Onyx Studio 3
Two woofers, two tweeters, and two passive radiator cones – all in one handheld device! Design and performance meets in the Onyx Studio 3, delivering crisp and authentic room-sized sound. Not to mention it looks pretty cool too!
Other new releases featured during the opening, were the JBL Everest 300BT, JBL Cinema SB450, the Harman Kardon SOHO BT, and the Harman Kardon Sabre 35. To know more about these, visit http://ph.jbl.com and http://ph.harmankardon.com.
But what makes #JBLFestivalMall branch extra-special, are not only the home theater speakers and soundbars on display – it also features an improved Home Theater Room, so shoppers can have a genuine experience of how amazing audio quality truly sounds, through an immersive movie-watching experience. This alone is already enough reason for me to keep on visiting the store!
This new JBL concept store is located at the Upper Ground Floor, New Wing of Festival Mall. They're currently offering shoppers exclusive deals and discounts to the JBL and Harmon Kardon bestsellers and new releases, so be sure to visit while the items are still there!