There is no shortage good local films this year. Last July, Cinemalaya 2018 brought us fan favorites like Kip Oebanda's "Liway", and critically acclaimed entries like Carlo Catu's "Kung Paano Hinihintay ang Dapithapon". Just a month after, Pista ng Pelikulang Pilipino 2018 presented Jason Paul Laxamana's musical "Bakwit Boys", and Chito Roño's drama "Signal Rock", for which Christian Bables won a Special Jury Award for his performance. And now coming up this October, is the sixth edition of QCinema International Film Festival – throwing us a mix of new and seasoned filmmakers in its lineup.
|| Related: QCinema 2018 Entries Revealed
A notable development for QCinema this year, is that the screening of Festival entries are reportedly not limited to Quezon City only. You may also catch QCinema 2018 screenings at Greenbelt 1, SM Megamall, SM Manila, and SM Mall of Asia.
To make your festival experience easier, we're compiling on this festival guide the full list of entries together with the synopses, film info, trailers, screening schedules, and other key information. We'll be updating this article as more festival details become available, so be sure to bookmark this article, or monitor updates through our QCinema 2018 #UnreelBinge here.
QCinema 2018 Schedule:
October 21 to 30, 2018
QCinema 2018 Cinemas:
Gateway Cineplex 10
Trinoma Mall
Robinsons Movieworld Galleria
Greenbelt 1
UP Town Center
SM City North EDSA
SM Megamall
SM Manila
SM Mall of Asia
QCinema 2018 Finalists – Circle Competition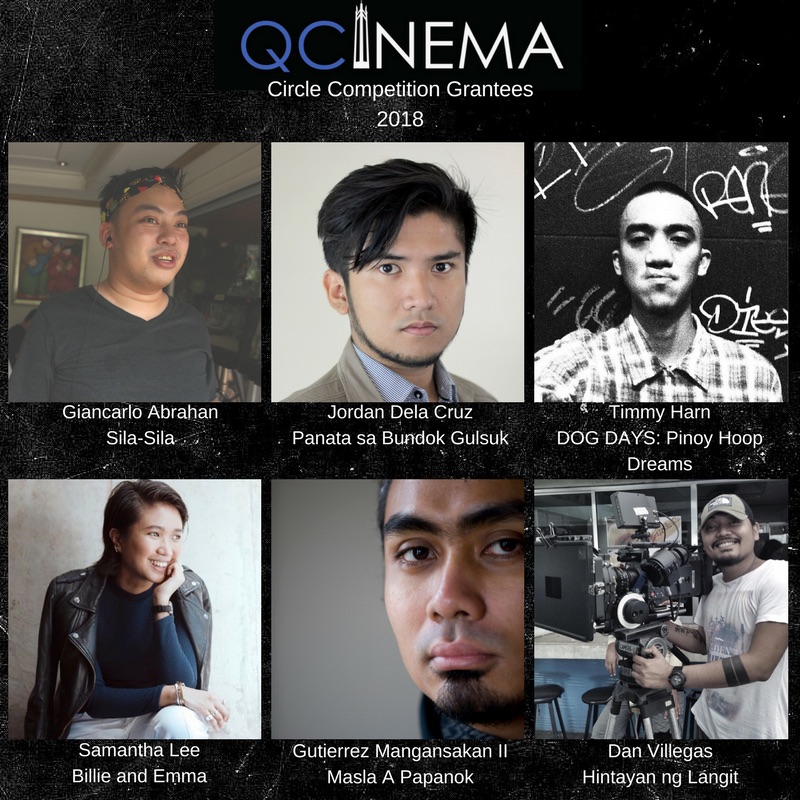 Billie and Emma (Samantha Lee)
Synopsis: Billie is a 17 year old rocker girl who is forced to move to the province. She meets Emma- queen bee, model student, perfect daughter and suddenly pregnant. Together, they go through the experience of first love as they explore what it means to be a family.
Hintayan ng Langit (Dan Villegas)
Synopsis: Lisang has been waiting for two years, but her bad behavior has kept her from moving forward. A new list of eligibles will soon be released and her name is finally being considered, but there's a shortage of rooms in purgatory and she'll have to share a room with a man from her past.

Masla A Papanok (Gutierrez Mangansakan II)
Synopsis: In 1892, a giant bird mysteriously appears in Maguindanao foretelling the fall and rise of colonial empires.
ODA SA WALA (Dwein Baltazar)
Synopsis: Sonya an old maid, is about to give up on herself until one day, she meets a corpse in her family's embalming business that changes her life.
Panata sa Bundok Gulsuk (Jordan Dela Cruz)
Synopsis: "Panata sa Bundok Gulsok" is a dark coming-of-age story set in the idyllic city of Naga in the Bicol Region. When the life of his pregnant high school girlfriend is threatened by a mysterious, incurable disease, a naive teenage boy must journey towards the peak of the mythical Mount Gulsuk to search for a cure.

Sila-Sila (Giancarlo Abrahan)
Synopsis: "Sila-Sila" follows the story of a gay man, who, while at a high school reunion, tries to avoid confrontations with people from his past, especially his drunk ex-boyfriend. And so he escapes through his gay-dating app, meeting "strangers" in the vaguely familiar campus.

DOG DAYS: Pinoy Hoop Dreams (Timmy Harn)
Synopsis: In chasing after his hoop dreams, half-black half-Filipino wannabe basketball star Michael Jordan Ulili believes he has special god given powers to have what it takes. But his power takes him to a journey where he is faced with the weirdness of his destiny.

QCinema 2018 Finalists: DocQC
All Grown Up (Wena Sanchez)
Synopsis: After years of nurturing and protecting her younger brother, a filmmaker is forced to question her ability to help the people she loves when her own daughter begins to have trouble of her own. A story about what it means to help the people you love the most.

LUZVIMINDA (Shallah Montero)
Synopsis: The Philippine drug war through the eyes of women.
Pag-ukit sa Paniniwala (Hiyas Baldemor Bagabaldo)
Synopsis: Procession of images including a 500-year-old Dead Christ is juxtaposed to the journey of a third-eneration mastercarver in transforming blocks of wood into a gigantic Jesus crucified on a 12-ft cross. The contrasting harmony of the sculptors, the sculptures, and the devotees reveal a customary yet surreal portrait of Paete, a small artisanal town in the Philippines.
QCinema 2018 Digitally Remastered Series:
All That Jazz (1979)
Directed by: Bob Fosse and written by Robert Alan Aurthur.
Synopsis: The story is a semi-autobiographical novel based on aspects of the life of Fosse as a dancer, choreographer, and director.
Footloose (1984)
Director: Herbert Ross
Synopsis: "Footloose" follows the story of Ren McCormack (Kevin Bacon), an upbeat teen who moves to a small town where dancing and rock music have been banned.
Saturday Night Fever (1977)
Director: John Badham
Synopsis: "Saturday Night Fever" features the story of Tony Manero (John Travolta), a working-class young man who spends his weekends drinking and dancing all night at the local Brooklyn club.
QCinema 2018: RainbowQC Competition
1985 (2018)
Director: Yen Tan
Writers: Hutch, Yen Tan
Starring: Virginia Madsen, Jamie Chung, Michael Chiklis
Synopsis: "1985" focuses on the story of a closeted young man struggling to reveal his identity to his conservative family. The narrative feature from Yen Tan lends a viewpoint of the gay community during the AIDS epidemic in 1985. It focuses on the hostility of small-town families grasping the idea of homosexuality.
The film, shot in black-and-white Super 16, won the Jury Award at the Barcelona International Gay and Lesbian Film Festival 2018.
Hard Paint (2018)
Directors: Filipe Matzembacher, Marcio Reolon
Writers: Filipe Matzembacher (screenplay), Marcio Reolon (screenplay)
Starring: Shico Menegat, Bruno Fernandes, Guega Peixoto
Synopsis: Set in Brazil's southern city of Porto Alegre, the film focuses on a socially repressed young man who only comes out of his shell during chatroom performances, when he strips and smears neon paints on his lithe body.
"Hard Paint" won the 2018 Teddy Awards in Berlin as the best LGBT-themed feature film.
The Heiresses (2018)
Director: Marcelo Martinessi
Writer: Marcelo Martinessi
Starring: Ana Brun, Margarita Irun, Ana Ivanova
Synopsis: "The Heiresses" follows the lives of the middle-aged couple, Chela (Ana Brun) and her partner of 30 years, Chiquita (Margarita Irún), who suffered financial hard times. The female-driven feature from Marcelo Martinessi explores the journey of self-discovery and awakening, captivating viewers with the superb acting of Ana Brun.
The film won the FIPRESCI prize at the 2018 Berlin International Film Festival. It was also selected as the Paraguayan entry for the Best Foreign Language Film at the 91st Academy Awards.
Knife + Heart (2018)
Director: Yann Gonzalez
Writers: Yann Gonzalez, Cristiano Mangione
Starring: Vanessa Paradis, Kate Moran, Nicolas Maury
Synopsis: Paris, summer 1979. Anne is a producer of gay porn at discount. When Loïs, her editor and companion, leaves her, she attempts to reclaim her by turning a film more ambitious with the flamboyant Archibald.
"Knife + Heart" is the Prix Jean Vigo 2018 winner.
Sorry Angel (2018)
Director: Christophe Honoré
Writer: Christophe Honoré
Starring: Vincent Lacoste, Pierre Deladonchamps, Denis Podalydès
Synopsis: Jacques is an older writer from Paris. Arthur is a young student in Rennes. They instantly fall in love. But they'll have to face rejection and sickness to keep it that way.
The International Cinephile Society bestowed the Best Screenplay award to "Sorry Angel" at the 2018 ICS Cannes Award.
The Wound (2017)
Director: John Trengove
Writers: John Trengove, Thando Mgqolozana
Starring: Nakhane Touré, Bongile Mantsai, Niza Jay
Synopsis: John Tregove's "The Wound" delves into the traditions of Xhosa, the second largest cultural group in South Africa. The coming-of-age drama speaks about the Xhosa initiation into manhood, striking issues of masculinity and sexual identity.
"The Wound" is the Jury Award winner at the 2017 World Cinema Amsterdam.
QCinema 2018 Asian Next Wave
The Third Wife
Director: Ash Mayfair
The Great Buddha+
Director: Hsin-yao Huang
Synopsis: Pickle is a night security guard at a bronze statue factory. He also plays in a band at funerals when time allows while his best friend, Belly Button, works as a recycling collector during the day. Pickle's biggest pleasure is flicking through the porn magazines Belly Button collects during wee hours in the security room. One day, while watching the footages recorded on their boss's dash cam, they accidently discover the boss's unspeakable secret. The story involves gods, the middle-aged men's sexual desire and the conversation between ghosts and humans.
The Seen and Unseen (Sakala Niskala)
Director: Kamila Andini
Synopsis: While in a hospital room, 10-year-old Tantri realizes that she will not have much time left with her twin brother, Tantra. Tantra's brain is weakening and slowly beginning to lose his senses. He now spends most of his time lying in bed, while Tantri has to accept the reality that she must soon face life alone. This situation opens up something in Tantri's mind: she keeps waking up in the middle of the night from a dream and seeing Tantra. The night becomes their playground. Tantri experiences a magical journey and an emotional relationship through body expressions, finding herself between reality and imagination, loss and hope.
A Land Imagined
Director: Yeo Siew Hua
Synopsis: Set in industrial Singapore, police investigator Lok must find a missing migrant worker named Wang. Wang suffers a worksite accident and is anxious about repatriation. Unable to sleep, Wang starts frequenting a dreamy cybercafé in the dead of the night. Hoping to look for some form of human connection in this foreign land he feels alienated from, Wang forms a virtual friendship with a mysterious gamer that takes a sinister turn. When Wang suddenly disappears, Lok digs deep into the trail leading to a land reclamation site, in order to uncover the truth beneath all that sand.
Malila: The Farewell Flower
Director: Anucha Boonyawatana
Synopsis: Pich and Shane are former lovers who reunite and rekindle their love, both coping with their own tragedies. Pich finds solace in creating intricate, ceremonial ornaments from folded banana leaves and white jasmine flowers, while Shane takes vows as a monk to heal from a loss. Reminiscent of fellow countryman and auteur Apichatpong Weerasethakul's work, this gorgeously lyrical and seductive tapestry weaves Thai traditions and Buddhist philosophy to explore love, death, and healing with tenderness and nuance.
QCinema 2018 Tickets and Festival Passes:
QCinema has yet to release any information on ticket prices and festival passes. Rest assured, we will update this guide once more details become available. You may also contact QCinema at +63 (2) 925 0967 or send them an email at festival@qcinema.ph.
Frequently Asked Questions About QCinema 2018
What are the screening schedules for QCinema 2018?
QCinema 2018 will happen on October 21 to 30, 2018 in select theaters around Metro Manila.
Where can I watch the QCinema entries?
You may attend screenings at Gateway Cineplex 10, Trinoma Mall, Robinsons, Movieworld Galleria, Greenbelt 1, UP Town Center, SM City North EDSA, SM Megamall, SM Manila, and SM Mall of Asia.
Can I purchase QCinema 2018 tickets online?
As of writing, there is no official announcement yet about tickets and festival passes. However in the previous years, Qcinema tickets may be purchased online through ticketing portals such as SureSeats, GMovies, and the SM Cinema app. We will update this info as soon as we have confirmation from the official announcement.
How much as QCinema 2018 tickets?
No information is available as of this time. Rest assured, we will update this guide as soon as ticket details are made available.
***
About QCinema
QCinema is the official film festival of Quezon City, touted as the "City of the Stars." It was established in 2013 by the Quezon City Film Development Commission (QCFDC) helmed by Mayor Herbert Bautista and Vice Mayor Joy Belmonte.
Since its humble beginnings in 2013, QCinema has grown bigger, gaining traction in local and international film circuits for its roster of film entries. In 2017, it was recognized as one of the best film festivals in the country.
For more information, visit qcinema.ph.