At the heart of George Berlanti's "Love, Simon" is a precariously self-affirming message. "I'm just like you," opens Simon Spier (Nick Robinson), a handsome high schooler who keeps his gayness blanketed shut. This doesn't deter him from giving his shapely neighbor discreet, fancy looks from the comfort and secrecy of his windowpane. Nor does it let himself waver from desiring Brendon Urie's veiny jugular and his million-dollar vocal chords—the plumpest and most efficient in post-post-post-emo rock. But when a schoolmate e-comes out via social media post, will Simon dare hit "send" and interact? Reticent at first, he eventually messages the poster who goes by the pseudonym "Blue", and thusly begins the love story center to "Love, Simon", one that ultimately becomes less concerned about its lover's self-acceptance than it is about his public identity.
Love, Simon Trailer
Simon purses chiseled-thin lips, walks in a pair of hand-me-down Nikes, and keeps a winsome wave to his hair. In short, he's quintessentially a teen comedy male protagonist. If he kept an Instagram account, the feed aesthetic would have been "main guy in a John Hughes movie". Simon's family, like him, is quick-witted; they're a tight-knit bunch, the kind that feels obliged to ingest whatever concoction their aspiring Masterchef whips together. His friends, too, belongs to a kind of poster existence, which starts with a visit to the local coffee shop—three iced americanos and one iced latte, please!—and ends with tender late-night confessions. One can't be at fault in thinking that Simon's "I'm just like you" spiel is a gay character's effort to wiggle his way into a story told from predominantly straight perspectives.
That's an awkward and dangerous notion, to be sure, but to say that "Love, Simon" doesn't mean well doesn't speak accurately to what the film is trying to achieve that it pulls off, though only to some extent. As Hollywood's first gay teen movie, it's doubtless filled with joyous, funny, and genuinely affecting moments. In a key sequence, for instance, Simon wonders why straight people don't need to come out and imagines his friends coming out to their parents as straight. Later, in the conversation with his mother (Jennifer Garner), Simon is offered the film's most precious insight: that he, and the millions of youth whose hearts this film will doubtless affect, doesn't have to go through with things alone.
Such moments find Simon in the fringes of confronting one's identity and the film itself at its most affecting. Even more intensely affecting is Simon's reserved attempts into acting on his urges, as he cautiously trod the mystery surrounding Blue's identity. Toward the film's midsection, in which a schoolmate (Logan Miller) leaks Simon's intimate exchanges with Blue, effectively outing Simon to the whole high school, happens a shift. Here, the film becomes too concerned with the repercussions of the reveal to Simon's person, instead of the fissures opened up in his being. And when the going finally got rough, Simon is given a triumphant moment. There, in the peppy glory of a Ferris wheel, he summons Blue to sit with him and atop the carnival, they are to share their first kiss. The moment feels, at least to me, unearned—a glorified act of display that does little beyond insisting a decision for a person you claim to love.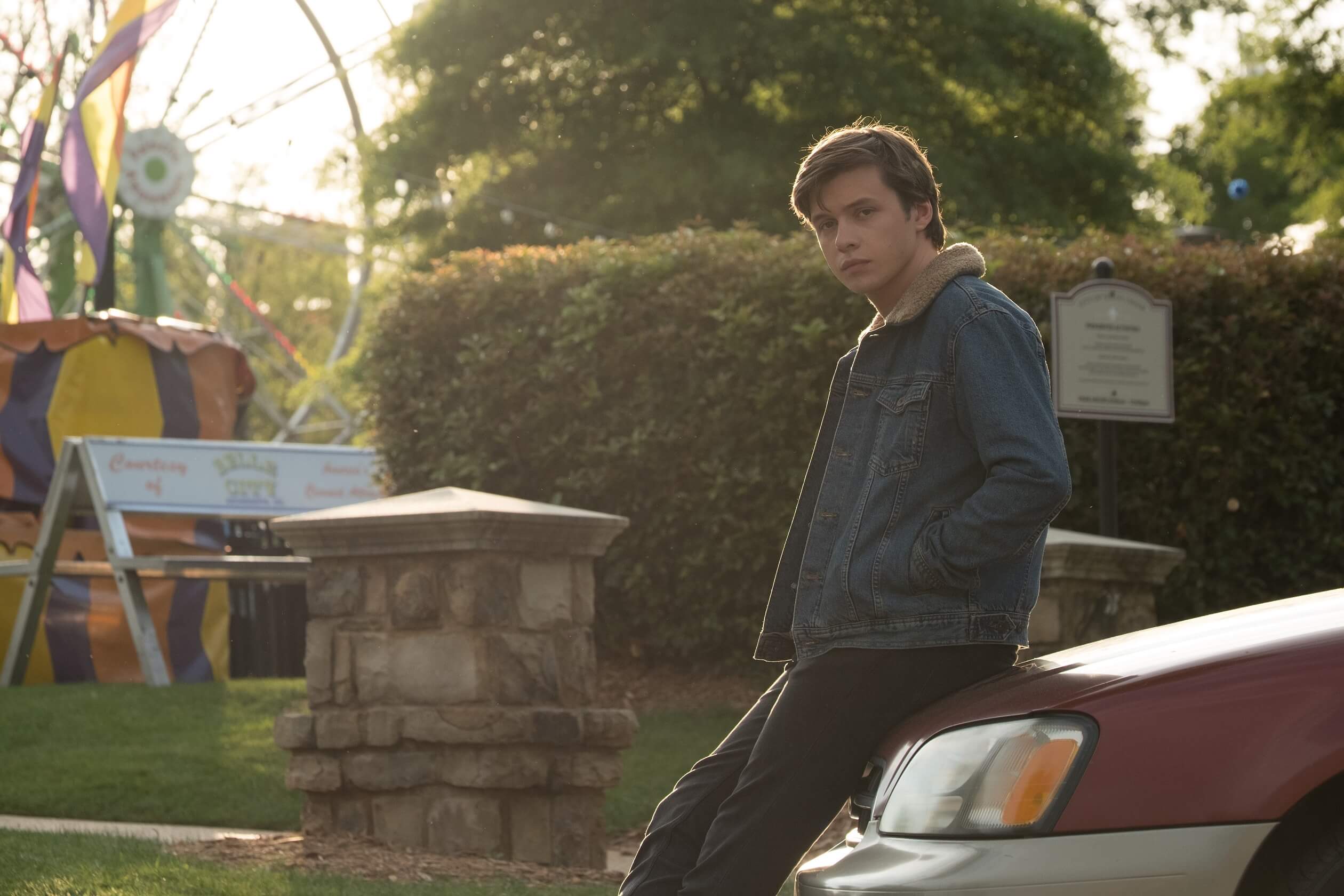 I've yet to read "Simon vs. the Homosapien Agenda", the young-adult novel by Becky Albertalli on which Berlanti's film is based, and I have no question that it will leave an indelible mark in pop culture. But for a film whose title is fashioned after a love letter, "Love, Simon" feels a little too impersonal, confined to the primness of its poster-boy character and his idyllic ways of life, including a father-and-son dynamic that's only awkwardly cheeky enough to yield laughs at the gag involving papa Spier's obliviousness to Grindr.
This article is originally published at Unreel.PH