Last August 14, UP Diliman's theater students, fellow thespians, professors, colleagues and acquaintances celebrated another opening for the Dulaang Unibersidad ng Pilipinas (Dulaang UP, or DUP) and the UP Playwrights' Theater's launching of a brand new season. After their successful 41st season REVELATIONS, DUP's 42nd and UPPT's 26th shall be HONORING DEFIANCE as a way to "continue a legacy of artistic quality and boldness" according to DUP's artistic director Prof. Dexter Santos.
Bookended by cocktails, the main event in the Wilfrido Ma. Guerrero Theater was a preview of the four upcoming plays of the company. Dulaang UP will mount two productions, and the Playwrights' Theater (founded under DUP's umbrella) will also stage two original plays by Filipino playwrights.
FATHERS AND SONS – Hot (Re)Discoveries
The first offering coming this September 2017 is Nick Joaquin's FATHERS AND SONS / MGA AMA MGA ANAK, narrated by DUP as follows:
"Set in the mid 70's, this three-act play revolves around a day in the life of Zacarias Monzon, a man once known as the Caritela King. During the last few days of his life, he attempts to regain his reputation as he reminisces his past wealth, power and success."
Translated by Pete Lacaba and Virgilio Almario, DUP's Founding Artistic Director Tony Mabesa directs the play for Nick Joaquin's birth centennial. The preview was an excerpt of the play, with a set designed by Rommel "Ohm" David and featuring the actors Stella Cañete Balucas Mendoza, Carlo Tarobal, Paula Benitez, Rody Vera and Leo Rialp. While the cast did very well in enticing the audience on an intense acting piece, Prof. Mabesa's "hottest discovery" here is Rody Vera who will act in the DUP stage after a few decades of focusing on playwriting and performing with PETA.
New world, old politics – BAGONG CRISTO
Coming this November is Alexander Cortez' staging of Aurelio Tolentino's BAGONG CRISTO as a part of the monumental playwright's 150th birth anniversary. The team previewed an excerpt, with four actors and possible Christ-figures directly speaking to the viewers and questioning the morals of a corrupt society where injustice rules the poor and only a few benefit from the creations of the Almighty.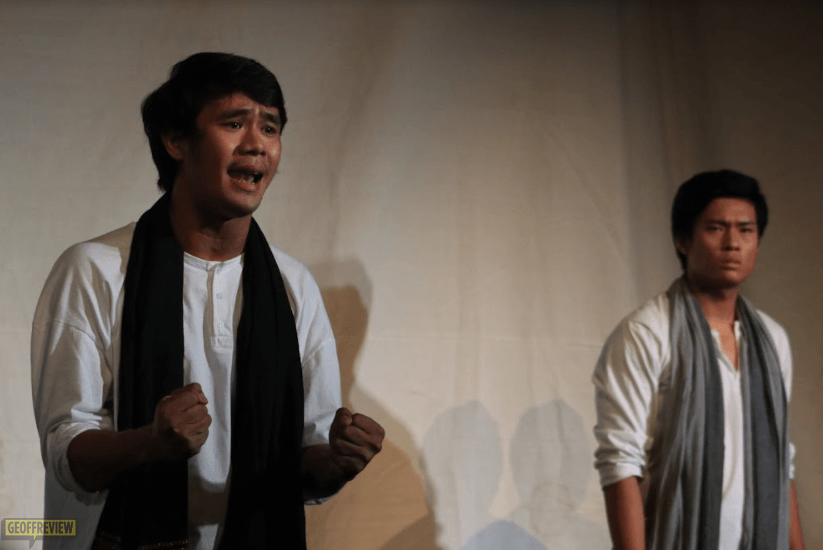 The production was roughly described as "a socialist drama dealing with labor groups and the working class debacle, given a contemporary treatment". Lengthy and familiar monologues show glimpses of an obvious critique of the current situation of the country, especially the issues of death penalty, extrajudicial killings and fake news. But it also promises a revival of Tolentino's own theatrical period and his own style of staging – a seditious spectacle that, for better or worse, would probably hit its target.
"I met a man" – A GIRL IS A HALF-FORMED THING
Mystery is enwrapped in the staging of Eimear McBride's play and Annie Ryan's book A GIRL IS A HALF-FORMED THING, which tells "the tragic life of a Girl, who has been repeatedly abused by her uncle, loses her beloved brother, grapples with the wicked religiosity of her mother, and increasingly finds herself in that corner of her life where no option is left". For its preview, DUP projected a short video of a white screen with sample dialogue fading in and out, while accompanied by an eerie recording of water droplets. The play is previewed as an expression of femininity – a fresh twist to DUP's season, following plays about patriarchs.
To be staged on February-March 2018 under the direction of José Estrella, it will be a unique presentation in DUP's 42nd season as it is the only play based on a foreign text and can even be staged with "a one-woman casting", hinted by Rody Vera who will be translating McBride's text. Played out "not as a stream of consciousness, but a stream of existence" as the play's dramaturg Ina Azarcon-Bolivar explains, the play is further described as "a harrowing piece that lays bare in no delicate terms, the appalling iniquity of sexual abuse and power."
Honoring the old and the new – THE KUNDIMAN PARTY
Wrapping the season is Dexter Santos' own experimental THE KUNDIMAN PARTY. Represented by a live kundiman sung by Greg de Leon, the play is described to the press as "a concert of Kundiman art songs that becomes the backdrop for a searing exploration of how Art, Music, Values and the very fiber of our society, is being transformed by the challenging times we live in. So, is everybody happy now?"
Still heavily in process, Dexter Santos' promises a treatment similar to the explorations of art, society, and of the old and new in R</3 J and ANGRY CHRIST, while still brimming with excitement as he dives into new explorations with THE KUNDIMAN PARTY. It will be staged on April 2018.
"Honoring Defiance"
The plays introduced appear to be clearly exciting, with four completely varied productions to be staged at the historic Wilfrido Ma. Guerrero Theater. These plays hark back to age-old civilizations now dissected and improved by fresher ideas and rendered by eclectic contemporary artists on the stage. While one must wonder how Dulaang UP's prestigious company will "honor defiance", it was UPD College of Arts and Letters' Dean Amihan Bonifacio-Ramolete who perhaps summarized what HONORING DEFIANCE must have meant. Quoting Stella Adler, "When you stand on the stage you must have a sense that you are addressing the whole world, and that what you say is so important the whole world must listen."
In these crucial times, it's ever relevant. And whether honoring defiance or defying honor, the bulk of local theater is now more than ever responsive to the needs of its masses. In our cry for justice and salvation, it's about time the whole world listens.
For ticket, show-buying, and sponsorship inquiries, you may contact Camille Guevara (0917 823 9531) or the Dulaang UP Office (Tel. No.: 926-1349 / 981-8500 local 2449 / dulaangupmarketing@gmail.com).
#DUP42HonoringDefiance
#UPPT26HonoringDefiance