If you ask me what my favorite dessert is, the first thing on top of my mind would always be ice cream. I have this fond memory of myself as a kid eating directly from a large tub of Magnolia ice cream, and I still remember that golden moment clearly because of how happy I was to have all of that ice cream all for myself!
Apparently I brought with me that love for iced desserts all the way to adulthood and now, ice cream is always my go-to treat on the menu! Of course, my taste has also evolved and as much as I love the regular ice cream from manong sorbetero, I'm also extra appreciative of premium ice creams because hey, not all ice creams are created equal. For me, the creamier, the better!
The good news is that I may have found the ice cream that can make moments golden in every scoop! Last October 26, the country's exceptional talents gathered for the reveal of the new Magnolia Gold Label Ice Cream. It's now made with fresh carabao's milk making it creamy. It's also certified pure because it has no artificial flavors!
Gracing the online event are Marvin Agustin and Happy Ongpauco-Tiu, who shared their golden moments and their love for the new Magnolia Gold Label Ice Cream's sweet indulgence. Beauty queen Megan Young also joined in the celebration, and we reminisced about her golden moment: being crowned as the country's first and only Miss World!
Speaking of golden moments, it was a pleasant surprise to see our Olympic gold medalist, Hidilyn Diaz in the event as well! She shared how she reserves her cheat days for enjoying ice cream. Asia's Multimedia Star, Alden Richards was also present, and he confessed that he's a Magnolia Gold Label Ice Cream fan, that's why when he discovered that it's now made creamier, he got excited to try all the flavors!
Watching these celebrities eat ice cream during Facebook Live also made me curious about all these new flavors so I didn't pass up the chance to try them all!
Wintermelon Milk Tea
This is the first one I tried because I don't think I've tasted this flavor of ice cream before. And boy that was a really pleasant start! It has these nice brown sugar flavored fudge and what I think are brown sugar boba. And yes it really does remind me of my favorite milk tea!
S'mores
Omg this S'mores flavor is super indulgent. Every bite has graham bits, made sweeter by streaks of dark chocolate fudge. The marshmallow flavor is also very distinct! And I'm not sure if it's just me but the texture of the ice cream somehow feels like melted marshmallows too!
Avocado Macchiato
Avocado is one of my all time favorite ice cream flavors, so it's no surprise that this is one I was able to finish first. I didn't know that avocado and coffee would go so well together! I enjoyed scooping out the coffee ripples in the avocado ice cream. The tablea bits also elevated the flavor. Check out this witch milkshake that I made with it for halloween!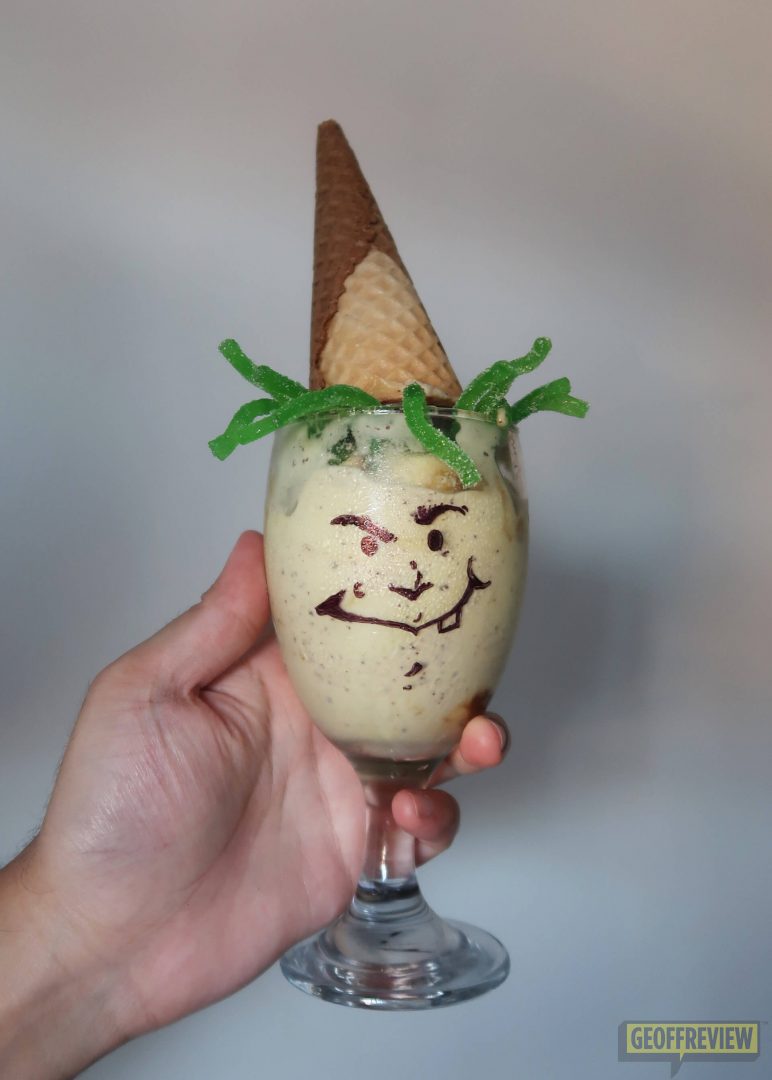 Taro White Cheese
The taro and the white cheese flavors aren't mixed together in this variety, so you can actually taste each flavor independently. The white cheese has subtle hints of saltiness, and you get some bits of cheese too! As for the taro, at first I thought it was the same as ube haha, but apparently they're different. Taro is less sweet and also lighter in color.
Choco Peanut Butter
I saved this for last because this is the one I am most excited about! I loooove Skippy peanut butter! It's so good, I wonder why they haven't made this into an ice cream flavor in the Philippines sooner! Just like the Taro White Cheese Flavor, you can scoop out the peanut butter and the chocolate ice creams separately. The peanut butter flavor is so distinct, it's like eating straight out of a Skippy jar!
Needless to say, my favorite was the Choco Peanut Butter. I love it so much that I tried eating it the way they do it in the TikTok trend right now where they mash sugar cones into the ice cream. Yum!
Aside from these new flavors, I also had the more classic vanilla and cookies and cream flavors. I've already tried these before but somehow they taste creamier this time around!
Now we can all get to try the premium new Magnolia Gold Label Ice Cream since they have a Christmas promo just in time to make our holiday celebrations GOLDEN! Get a 1.3L tub of the new Magnolia Gold Label Ice Cream for only P295 starting this November 1 until December 31, 2021!
Experience this next-level creaminess in the new Magnolia Gold Label Ice Cream, a world-class taste made for golden moments. Every tub is a golden treat! Go ahead and indulge — after all, nothing beats the gold label.
Shop Magnolia Gold Ice Cream at supermarkets and grocery stores, or online via San Miguel Frozen & Chilled on Shopee and Lazada, The SMC Hub and other online partners. Follow Magnolia Ice Cream Philippines on Facebook for updates.